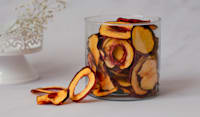 Dried-Fruit Dessert Recipes (Satisfy Your Sweet Tooth Without the Guilt)
Dried-Fruit Dessert Recipes (Satisfy Your Sweet Tooth Without the Guilt)
Craving sweets but mindful of your diet? Look no further. In just a few easy steps, you can turn our dried fruit selections into a luscious dried fruit dessert that won't tip the scale. These desserts are not just tasty; they're also rich in antioxidants, vitamins, and minerals.
Try These Three Delightful Dried Fruit Desserts:
Dried Fruit Desserts. Dried Fruit Compote
Looking for something simple and nutritious? A dried fruit compote is both tasty and healthy. It's made from a medley of whatever dried fruits you have on hand. Want a little extra sweetness? Drizzle some honey on top. Trust us, it'll be your new weeknight favourite.
Ingredients
140g dried fruit (apricots, cherries, sultanas recommended)
½ tsp cinnamon
300ml apple juice
200g tub fat-free Greek yoghurt
100g granola
What To Do
Combine the dried fruit, cinnamon, and apple juice in a small pan. Stir the mixture and let it simmer for 5 minutes or until the apple juice turns syrupy. Remove from heat and let it cool.
Divide the fat-free Greek yoghurt evenly among 4 bowls. Top each bowl with the cooled fruit compote and sprinkle with granola.
Dried Fruit Desserts. Fresh and Dried Fruit Galette
New to baking? This French-inspired galette is your go-to. A rustic pastry crust houses a mixture of fresh and dried fruits.
Ingredients for Dough
¾ cup white whole-wheat flour
½ cup spelt flour
2 tbsp confectioner's sugar
¼ tsp salt
2 tsp orange zest
6 tbsp cold margarine
1 large egg, separated
3 tbsp ice water
Ingredients for Filling
1 large apple, peeled and cubed
½ cup chopped dates
½ tsp cinnamon
½ cup chopped dried apricots
½ cup blueberries
3 tbsp sugar
1 tbsp honey
2 tsp cornstarch
1 tsp sugar for topping
What To Do
Make the Dough
Mix the flours, sugar, salt, orange zest, and margarine until crumbly in a food processor.
Add the egg yolk and 1 tablespoon of ice water. Mix until combined.
Add the remaining ice water bit by bit until the dough forms small clumps.
Form into a ball, wrap in plastic, and freeze for 30 minutes.
Prepare the Filling
Microwave the apple, 2 tablespoons sugar, and cinnamon for 2 ½ minutes. Let cool.
Mix apricots, dates, blueberries, cornstarch, the remaining sugar, and honey in a bowl. Assemble and Bake
Preheat the oven to 425°F.
Roll out the dough into a 15-inch circle between two sheets of parchment paper.
Drain excess liquid from the apples and add them to the fruit mixture.
Place the filling in the centre of the dough, leaving a border.
Fold the edges of the dough over the filling.
Brush with beaten egg white and sprinkle with 1 teaspoon sugar.
Bake for 30 minutes or until golden.
Dried Fruit Desserts. Yogurt Brittle
Craving sugar? Try this yoghurt brittle. A perfect after-dinner treat, this fig recipe can also be adapted to your choice of dried fruit.
Ingredients
500g of your choice of yoghourt
9 chopped figs
400g raspberries
A pinch of cinnamon
What To Do
Line a large baking tray with greaseproof paper.
Spread the yoghurt evenly across the lined tray.
Sprinkle the chopped figs, raspberries, and a pinch of cinnamon evenly over the yoghurt layer.
Place the tray in the freezer and freeze for at least 2 hours or until the yoghurt is solid.
Once frozen, carefully remove the greaseproof paper and break the yoghurt layer into shards.
Place the yoghurt shards in a freezer-safe bag, seal it, and keep it frozen for up to 3 months.
Closing Thoughts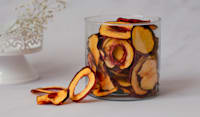 From fig recipes to after-dinner treats, which dried fruit recipe will you try? If you've never made a dried fruit dessert before, these easy-to-make recipes are your perfect introduction.
These easy recipes are perfect for first timers. Find all the dried fruits you'll need at our shop, available in value-packed 1 kg bags. Have other recipe ideas? Share them with bev@walnut.gifts
About Walnut Tree- the finest edible gifts
Great Taste Awards
With Great Taste Awards for nougat, dried fruit, marron glacé, glacé fruit, dark chocolate ginger and pate de fruit. You'll always be purchasing quality products from Walnut Tree.
Who we supply
Supplied under own brand or white label to prestigious stores, palaces, castles, stately homes, garden centres, delicatessens, farm shops, hamper companies, department stores and gift shops.
Why buy from us?
You're buying directly from the source and will get excellent value for money. If you're not happy with your purchase, we'll refund or replace it. The website is open 24/7, orders despatched within 48 hours.
Our charitable contributions
Walnut Tree supports Future Dreams Breast Cancer Charity with dried fruit for their care packages. www.futuredreams.org.uk
Local areas to our factory
AL1 | AL2 | AL3 | AL9 | AL10 | EN6 | EN5 | EN4 | NW4 | NW7 | NW9 | WD6 | WD7 | WD17 | | WD19 | WD23 | WD24 | WD25 | Aldenham | Barnet | Borehamwood  | Brent X | Bushey | Colney Street | Edgware | Elstree | Finchley | Frogmore | Hatfield | Hendon | Hertfordshire | Hertsmere | Leavesden | London Colney | Mill Hill | New Barnet | North London | Potters Bar | Radlett | Shenley | South Mimms | Stanmore | St. Albans | Southgate | Watford | Welham Green | Whetstone | Woodside Park