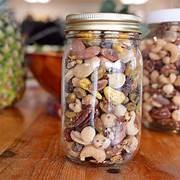 How to Make a Healthy Homemade Trail Mix | Dried Fruits and Nuts
How to Make a Healthy Homemade Trail Mix | Dried Fruits & Nuts
Whether you're trekking through the hills or simply in need of a lunchbox filler, trail mix is an ideal snack. It's not just a tasty medley of flavours and textures—think dried fruits, nuts, seeds, and more—but also a powerhouse of essential nutrients and vitamins.
However, be cautious: not all trail mixes are equal. Some come filled with unhealthy items that can spike your cholesterol and clog arteries. That's not an issue with our healthy homemade trail mix recipe!
Gearing up for a big adventure or just a lengthy day out? Consider making our trail mix using the nuts and dried fruits available at Walnut Tree. And don't hesitate to personalise the ingredients.
What is Trail Mix?
In a nutshell: trail mix is a snack designed by hikers to keep energy levels high during long trail walks. It's easy to store, and you can eat it on the go. Sure, you can purchase pre-packaged versions, but making your own has a special charm.
What's Inside?
People often add chocolate, cereal, and even candy to trail mix. For a healthier option, here are
some key ingredients to consider:
Nuts like almonds and cashews offer healthy fats, fibre, and protein.
Dried fruits such as blueberries and apricots bring antioxidants and vitamins.
Dark chocolate with 70% cocoa can be heart-healthy.
Seeds like pumpkin and sunflower seeds provide essential minerals.
Whole grains, including rolled oats, are high in fibre and offer sustained energy.
Is Trail Mix Healthy?
Yes, if you do it right. When made with quality ingredients, trail mix can be part of a balanced diet. But be mindful of portions—this snack is calorie-dense. Fortunately, it keeps well in a sealed container for weeks.
You'll gain protein from the nuts and seeds, antioxidants from the dried fruits, and good fats that are heart friendly. But remember, if your trail mix is loaded with candies and salted items, it becomes an unhealthy choice. It's all about what you put in.
Homemade Trail Mix Recipe
The key to a satisfying homemade trail mix lies in the ratios. Get it right, and you'll enjoy a scrumptious, energising snack.
Here's how we measure our trail mix, keeping it simple:
1) A generous 1 ½ cups Nuts
2) A very generous 1 cup Dried Fruits
3) Up to 1 cup Dark Chocolate
4) Approx. ½ cup Seeds
5) ½ cup Whole Grains
6) Up to ½ cup of 'Goodies'
7) Optional spices: cinnamon, nutmeg, sea salt, and honey
How to Make It
No complicated steps here: just combine all the ingredients in a big bowl. Mix thoroughly. Store the finished product in an airtight container, and you're good to go.
Closing Thoughts
So, there you have it—everything you need to know about trail mix and how to make it your own. Modify the above recipe to suit your taste; there are no strict rules. Just opt for high-quality ingredients for the best experience.
If you're looking for excellent bulk kilo nags of  dried fruits and nuts, consider those from Walnut Tree, available in various packaging options. Feel free to add some unique touches like our glace fruit or nougat!
Email bev@walnut.gifts with your personalised trail mix recipes and I'll send a bag of mixed nuts to the first five people.
About Walnut Tree- the finest edible gifts
Great Taste Awards
With Great Taste Awards for nougat, dried fruit, marron glacé, glacé fruit, dark chocolate ginger and pate de fruit. You'll always be purchasing quality products from Walnut Tree.
Who we supply
Supplied under own brand or white label to prestigious stores, palaces, castles, stately homes, garden centres, delicatessens, farm shops, hamper companies, department stores and gift shops.
Why buy from us?
You're buying directly from the source and will get excellent value for money. If you're not happy with your purchase, we'll refund or replace it. The website is open 24/7, orders despatched within 48 hours.
Our charitable contributions
Walnut Tree supports Future Dreams Breast Cancer Charity with dried fruit for their care packages. www.futuredreams.org.uk
Local areas to our factory
AL1 | AL2 | AL3 | AL9 | AL10 | EN6 | EN5 | EN4 | NW4 | NW7 | NW9 | WD6 | WD7 | WD17 | | WD19 | WD23 | WD24 | WD25 | Aldenham | Barnet | Borehamwood  | Brent X | Bushey | Colney Street | Edgware | Elstree | Finchley | Frogmore | Hatfield | Hendon | Hertfordshire | Hertsmere | Leavesden | London Colney | Mill Hill | New Barnet | North London | Potters Bar | Radlett | Shenley | South Mimms | Stanmore | St. Albans | Southgate | Watford | Welham Green | Whetstone | Woodside Park