What's our story ? How did we start ? My brother asked me to make up some bespoke Christmas food gifts for his corporate clients. The brief was, something quality but with a unique twist and individual charm. One of the gifts was sent to the owner of a chain of delicatessens who was so taken with it, he immediately ordered some for his shops. Walnut Tree was planted. Like many fledging businesses we started in the kitchen, moved to the garage until in 2012, lack of space forced us to move to a factory in Hertfordshire.
Superior foods is our priority and we believe this can only be achieved by visiting suppliers here in the UK and abroad. Planes, trains, buses, rickshaws … you name it we've taken it in our quest to provide you with consistently high quality products. Many countries have speciality foods, for the healthy conscious … apricots and figs from Turkey, cranberries, almonds and walnuts from America and ginger from Asia … and for those of us who like something a bit sweeter, marron glace and glace fruits from Europe. Be it by the container, pallet, box or bag, we have them shipped to our factory and hand pack them for you.
Our hand packed in the UK policy guarantees you certainty over choice and reliability and supports local employment and allied trades so, whether you're buying grandad's favourite chocolate brazils or your favourite cinnamon coated almonds, we assure you that you're buying an excellent product that has been packed with love and care in one of our custom-made gift boxes or trays.
In addition, we're privileged to have met the criteria set by The London Beth Din for kosher production, this certification makes buying gift food from our extensive range for people with vegetarian, vegan, halal and kosher diets easy. So click here, sit back and let the feast begin.
Cinnamon chocolate nuts, salted caramel truffles, marrons glacés, orange slices and stem ginger dipped or enrobed in dark chocolate, savoury nuts and award-winning pâte de fruit – these are a few of our favourite things … The list goes on, the range is ever-growing and the quality, as ever, is unsurpassed.
Luxury, originality and affordability all take pride of place when Team Walnut Tree steps into its creative role. Our aim is to provide a comprehensive range that eliminates the stress around tracking down all those must-have, yet often difficult-to-find festive indulgences and we believe that for 2019 we have exceeded expectations.
This year you are spoiled for choice. Our Connoisseur Range boasts innovative trays in new shapes with delectable contents, from stocking fillers and Granny's fancies to Dad's secret nibbles, all carefully sourced, selected and hand packed in our factory in Hertfordshire. Order across the range and neither you nor your customers will be disappointed.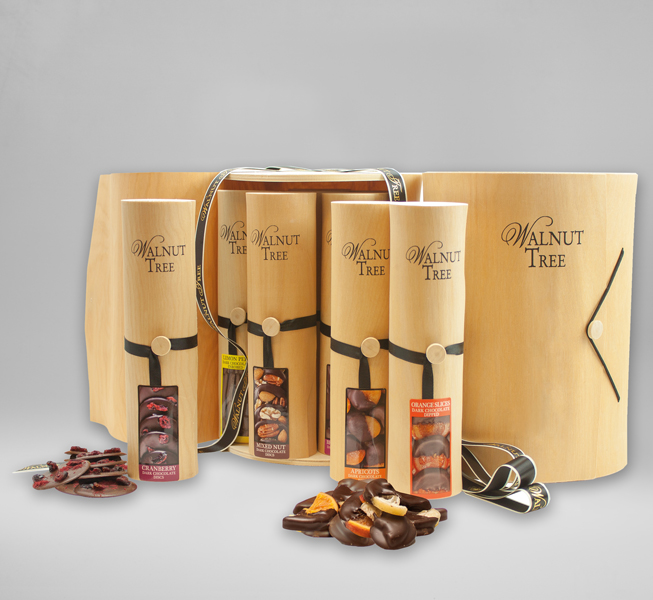 Perfect Gifts for Any Season
The Classic Range, including our much-loved reed and wooden trays filled with a wide a choice of dried fruit, natural nuts, almond-topped dates and walnut-topped figs, is especially good in hampers and gift baskets and remains a timeless favourite.
A Walnut Tree tray takes you on a journey of discovery – anticipation as you untie the opulent ribbon, longing, as you catch the seductive aroma and, ultimately, sheer joy as you taste past, present and future in a single mouthful. An irresistible experience and one not to be missed.
With products that are vegetarian, vegan, halal and kosher, there really is something for everyone to enjoy – the perfect gift or an illicit treat, sure to whet the appetite of even the most discerning client, bringing a smile to their face and a warmth to their heart. Instant happiness.
We are serving some of the most prestigious companies in the retail trade, with own brand and white label products.
Marron glacé | Glacé fruit | Marzipan | Chocolate ginger | Chocolate orange | Chocolate | Cinnamon | Chocolate nuts | Pâte de fruit | Spicy nuts | Nuts | Dried fruit | Nougat | Nut brittle | Mango | Strawberry | Brazil | Apricot | Date | Almonds | Stocking fillers | Christmas |  Vegan | Vegetarian | Halal | Kosher | Gluten free | Presents | Gifts | Best | Hampers | Gift ideas | Corporate gifts | New Year's gifts | Quality | Luxury | Gifts for him | Gifts for her