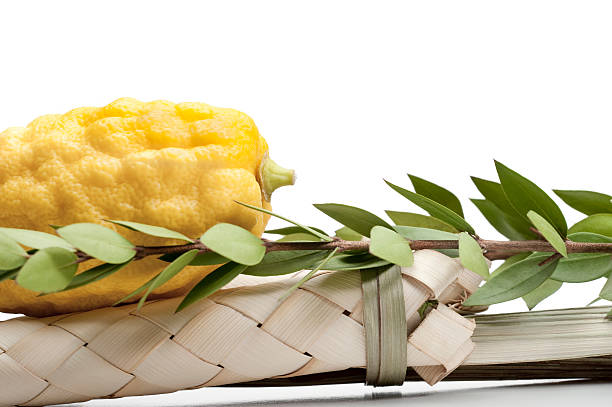 How to Celebrate Sukkot 2023
How to Celebrate Sukkot 2023
Sukkot 2023. As autumn sets in, a wave of joy and gratitude spreads across the Jewish community worldwide. This wave is known as Sukkot, the Festival of Booths.
In this article, we'll delve into the meaning of Sukkot, its profound symbolism, and the mouth-watering traditional foods associated with the celebration.
Let's embark on this enlightening journey into the heart of Sukkot.
What Is Sukkot?
In Hebrew, Sukkot signifies 'booths' or 'huts' and is an ode to the makeshift dwellings that provided shelter to Jews during their 40 years of desert wanderings. These temporary structures, or sukkahs, become the hub of meals, relaxation, and bonding during the holiday, symbolising the embrace of nature and communion with loved ones.
Sukkot weaves together joy and vulnerability, reflecting the delicate balance of life itself. Rooted in the Torah, it's considered a festival of happiness, emphasising the simplicity of being close to nature, family, and friends. The biblical commandment from Devarim/Deuteronomy 16:13-15 underlines Sukkot as a time for pure joy.
Counted among the three Pilgrimage Festivals (major holidays cited in the Torah), Sukkot joins Pesach (Passover) and Shavuot (Feast of Weeks) as key periods when Jews would journey to the Temple in Jerusalem. Also called Chag Ha-asif, translating to 'the Feast of Ingathering,' a time of grateful acknowledgement following the harvest.
Religious Symbols of Sukkot 2023
Sukkah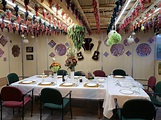 The Sukkah is a symbol of the temporary shelters the Israelites used during their desert sojourn post  the Exodus from Egypt. Its purpose is to serve as a reminder of God's unending protection and providence for the Israelites, reassuring us of His constant watchfulness today.
The design of Sukkahs varies widely, but specific guidelines exist:
A Sukkah must have at least two and a half walls. Existing walls, like the side of a house, can form one, while other materials like canvas, wood, or metal construct the rest. Ready-to-assemble Sukkah kits are a convenient choice today.
The roof should be temporary and covered with cut branches from trees or any growth from the ground (s'chach). It should provide shade while still allowing a view of the stars at night.
Post-construction, decorating the Sukkah with fruits, posters, and even carpets is customary to create a festive atmosphere.
Lulav and Etrog
The festival also celebrates the autumn harvest through the blessing and waving of the lulav and the etrog: symbols of the harvest. The lulav is an assemblage of date palm, willow, and myrtle branches, held together by a woven palm branch. The etrog, a lemon-like fruit with a pleasant citrus aroma, pairs with the lulav in the ritual.
The lulav and etrog are waved in six directions—north, south, east, west, up, and down, signifying the omnipresence of God. The special blessing recited during this ritual is: Baruch atah Adonai, Eloheinu Melech haolam, asher kid'shanu b'mitzvotav v'tzivanu al n'tilat lulav.
"Blessed are You, Adonai our God, sovereign of the universe, who has sanctified us through Your mitzvot and ordained the taking of the lulav."
These rich traditions and rituals of Sukkot highlight the deep faith and devotion of the Jewish community, marking it as a powerful and significant festival.
Traditional Sukkot 2023 Foods
One of the holiday's staples is 'stuffed' dishes. You might find bell peppers or zucchini bursting with flavourful fillings like rice and minced meat. Then, there's the sweet treat: stuffed pastries.
Don't forget about the "Seven Species" from the Torah. Here's how they show up on the Sukkot table. We've got challah made from wheat, barley soup, and grape juice or wine from grapes. You'll also see fig cookies, fresh pomegranate salad, cakes rich in olive oil, and desserts drizzled with date honey.
For a hearty dish, look for cholent, a stew brimming with meat, potatoes, beans, and barley. And let's not forget about kreplach, little dumplings filled with ground meat or chicken.
To wrap up your meal, there's the fragrant Etrog jam made from the citron used in Sukkot rituals. All in all, Sukkot is a feast that rejoices in the season's blessings, enjoyed with warmth and gratitude.
Summary Sukkot 2023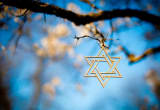 Sukkot is a vibrant celebration of faith, tradition, and community. Its rich symbols and diverse foods hold deep meanings, reminding us of our roots and collective journey.
Consider Walnut Tree's GREAT TASTE AWARD WINNING kosher dried fruit gift boxes to add a touch of joy and warmth to your Sukkot celebrations. Healthy, delicious, and meticulously curated, they're the perfect way to share the season's bounty.
Embrace the spirit of Sukkot 2023 with Walnut Tree Gifts – a thoughtful gesture that resonates with the joy and gratitude of this remarkable festival.
About Walnut Tree- the finest edible gifts
Great Taste Awards
With Great Taste Awards for nougat, dried fruit, marron glacé, glacé fruit, dark chocolate ginger and pate de fruit. You'll always be purchasing quality products from Walnut Tree.
Who we supply
Supplied under own brand or white label to prestigious stores, palaces, castles, stately homes, garden centres, delicatessens, farm shops, hamper companies, department stores and gift shops.
Why buy from us?
You're buying directly from the source and will get excellent value for money. If you're not happy with your purchase, we'll refund or replace it. The website is open 24/7, orders despatched within 48 hours.
Our charitable contributions
Walnut Tree supports Future Dreams Breast Cancer Charity with dried fruit for their care packages. www.futuredreams.org.uk
Local areas to our factory
AL1 | AL2 | AL3 | AL9 | AL10 | EN6 | EN5 | EN4 | NW4 | NW7 | NW9 | WD6 | WD7 | WD17 | | WD19 | WD23 | WD24 | WD25 | Aldenham | Barnet | Borehamwood  | Brent X | Bushey | Colney Street | Edgware | Elstree | Finchley | Frogmore | Hatfield | Hendon | Hertfordshire | Hertsmere | Leavesden | London Colney | Mill Hill | New Barnet | North London | Potters Bar | Radlett | Shenley | South Mimms | Stanmore | St. Albans | Southgate | Watford | Welham Green | Whetstone | Woodside Park