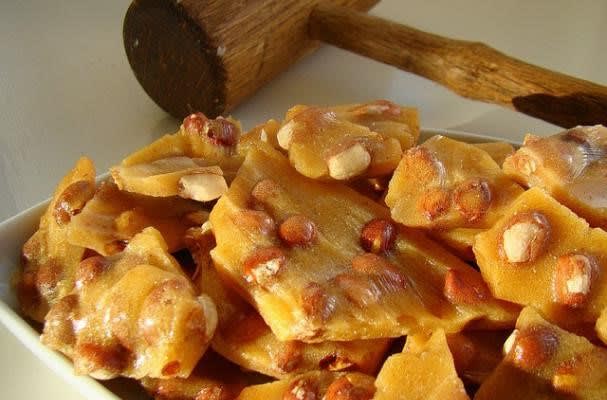 Simple Nut Brittle Recipe (And Why It's the Best Luxury Snack)
Simple Nut Brittle Recipe (And Why It's the Best Luxury Snack)
Nothing compares to the crunch of nut brittle! There's just something about that delicious combination of crunchy nuts and sweet, caramelised sugar that keeps you reaching for more.
Below we're not just about appreciating the magic of nut brittle; we're also teaching you the best nut brittle recipe. By the end, not only will you know how to craft your very own nut brittle, but you will also understand why it reigns supreme as the best luxurious snack.
So, let's delve into this divine journey of nutty goodness.
Best Nut Brittle Recipe
Crafting the perfect nut brittle is part science, part art. It's about having the right ingredients, following the steps meticulously, and sprinkling a dash of deliciousness into the mix. Here's our handpicked recipe for the best nut brittle:
Ingredients
Granulated Sugar: 2 1/4 cups
Water: 1/2 cup
Light Corn Syrup: 1/2 cup
Fine Sea Salt: 1/2 teaspoon
Butter: 6 tablespoons (cut into pieces, and some more for the baking sheet)
Mixed Nuts: 2 cups (A mix of toasted pecan halves, lightly salted toasted pistachios, lightly salted toasted almonds, cashews, or pumpkin seeds)
Dry-roasted Peanuts: 1 cup (salted)
Baking Soda: 2 teaspoons
Vanilla Extract: 1 1/2 teaspoons
Flaky Finishing Salt (such as fleur de sel): 2 teaspoons
What To Do
Butter a baking sheet (18- x 13-inch) lightly or coat it with cooking spray and set it aside.
In a heavy, 2-quart saucepan, stir together the sugar, water, corn syrup, and fine sea salt. Attach a candy thermometer to the side of the pan. Set the pan on medium-high heat and gently stir until the sugar dissolves and the mixture boils. Let it cook undisturbed until the sugar syrup is clear and thickened, reaching 230˚F to 235˚F (soft-ball stage), which should take 5 to 7 minutes.
Stir in the butter and continue cooking over medium-high heat. Stir occasionally until the butter melts, the syrup caramelises, and the thermometer hits 300˚F to 305˚F (hard-crack stage). This should take 6 to 8 minutes.
Quickly take the pan off the heat and vigorously stir in the mixed nuts and peanuts until they are completely coated in caramelised syrup.
Next, stir in the baking soda and vanilla extract. The hot, caramelised syrup will start to foam and lighten as soon as the baking soda is added.
Immediately pour this hot candy onto the prepared baking sheet. Use the back of a wooden spoon to spread the mixture into a thin layer covering most of the baking sheet. A few holes are okay – the candy doesn't need to be a solid sheet.
Sprinkle the entire surface with the flaky finishing salt. Let it stand until the brittle hardens, which should take about an hour.
Break the hardened brittle into pieces. The brittle can be stored in an airtight container or a ziplock plastic bag for up to 2 weeks.
Why Nut Brittle is the Best Snack
Nut brittle is more than just a tasty treat; it's a snack that captivates the senses and offers numerous benefits. Here's why nut brittle stands out as the best luxurious snack:
Versatile Flavours: You can customise the nut brittle from almonds to cashews to suit your palate.
Crunchy Texture: The combination of nuts and caramelised sugar offers a delightful crunch that's both satisfying and addictive.
Easy to Make: As our recipe shows, you don't need to be a chef to whip up a delicious batch of nut brittle.
Perfect for Sharing: Nut brittle is an ideal shareable treat, whether it's a festive season or a casual get-together.
Nutrition Packed: Nuts are known for their health benefits, and nut brittle allows you to enjoy these in a delicious snack.
Long Shelf Life: Stored properly, nut brittle can last up to two weeks, making it a convenient snack to keep on hand.
Final Thoughts
If you're craving the perfect nut brittle without all the fuss in the kitchen, look no further than Walnut Tree's . Available as a six-bar pack or as part of a collection with dried fruits, marzipan, nougat, and pate de fruit, it's the ideal way to savour this classic snack.
Why not treat yourself or a loved one to this exquisite delight? Visit Walnut Tree's Nut Brittle Collection and indulge in a culinary experience like no other. After all, life is too short not to enjoy the finest treats!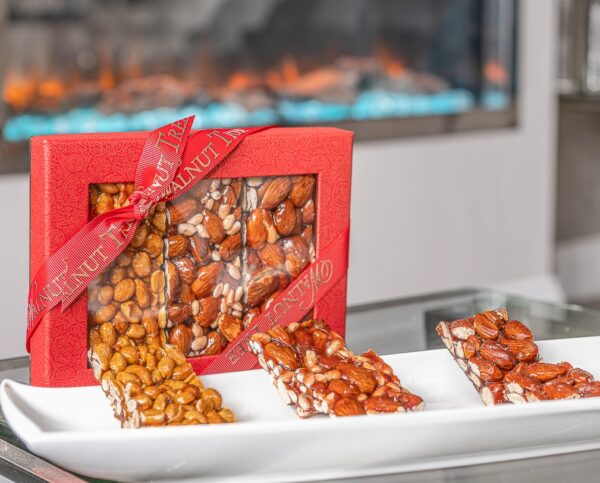 About Walnut Tree- the finest edible gifts
Great Taste Awards
With Great Taste Awards for nougat, dried fruit, marron glacé, glacé fruit, dark chocolate ginger and pate de fruit. You'll always be purchasing quality products from Walnut Tree.
Who we supply
Supplied under own brand or white label to prestigious stores, palaces, castles, stately homes, garden centres, delicatessens, farm shops, hamper companies, department stores and gift shops.
Why buy from us?
You're buying directly from the source and will get excellent value for money. If you're not happy with your purchase, we'll refund or replace it. The website is open 24/7, orders despatched within 48 hours.
Our charitable contributions
Walnut Tree supports Future Dreams Breast Cancer Charity with dried fruit for their care packages. www.futuredreams.org.uk
Local areas to our factory
AL1 | AL2 | AL3 | AL9 | AL10 | EN6 | EN5 | EN4 | NW4 | NW7 | NW9 | WD6 | WD7 | WD17 | | WD19 | WD23 | WD24 | WD25 | Aldenham | Barnet | Borehamwood  | Brent X | Bushey | Colney Street | Edgware | Elstree | Finchley | Frogmore | Hatfield | Hendon | Hertfordshire | Hertsmere | Leavesden | London Colney | Mill Hill | New Barnet | North London | Potters Bar | Radlett | Shenley | South Mimms | Stanmore | St. Albans | Southgate | Watford | Welham Green | Whetstone | Woodside Park