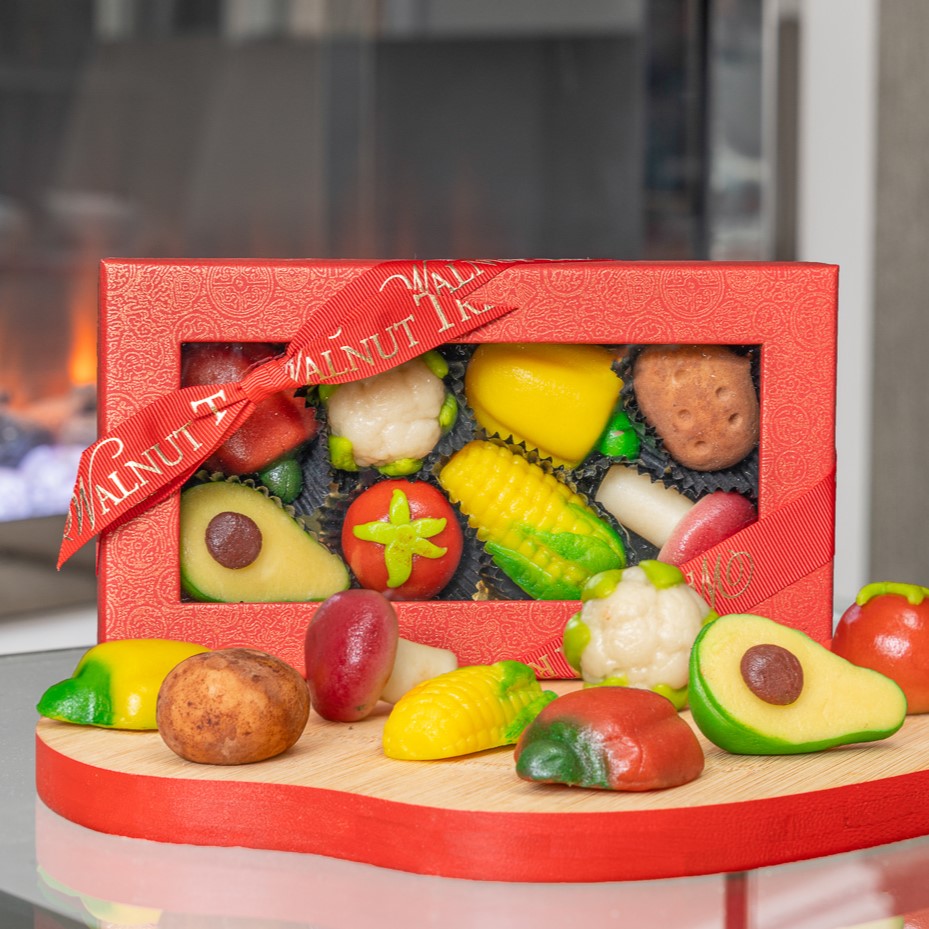 Marzipan: What Is It Made Of?
Marzipan, let's talk about it, a confection that has been tantalizing taste buds and winning hearts for centuries! This almond-based sweet treat boasts a rich history and serves as an integral ingredient in countless delightful desserts. But what exactly is marzipan, and what makes it so special? Let's dive right in and explore!
A Tasty Trip Through History
It is a sweet, delicious confection made from almond meal and sugar. It exhibits a dense, dough-like consistency that confectionaries and bakers mould into a myriad of shapes and designs. Although the origins of marzipan stir up debates, it's widely believed to have been birthed in the Middle East and later introduced to Europe by traders during the Middle Ages.
Subsequently, marzipan found immense popularity in Germany, especially in the city of Lübeck, celebrated for its superior marzipan production. Today, people across the globe relish it, and it has firmly established itself as a staple ingredient in numerous traditional European desserts and baked goods.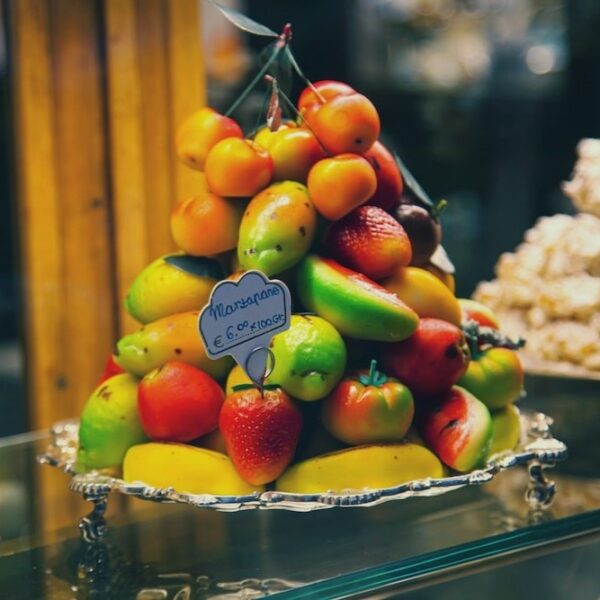 What's in Marzipan?
The ingredients are delightfully straightforward yet incredibly tasty:
Almonds: Ground almonds, or almond meal, form the foundation of marzipan. They lend the rich, nutty flavour that marzipan is renowned for.
Sugar: Marzipan typically incorporates granulated or powdered sugar, contributing to its characteristic sweetness.
Water or syrup: A liquid component like water or syrup binds the almond meal and sugar, resulting in a pliable dough.
Egg whites (optional): Some recipes call for egg whites to enhance moisture and improve the texture.
Flavourings (optional): Add extra flavour through ingredients like vanilla or almond extract, rose water, or orange blossom water.
How do you use Marzipan ?
It boasts a wide array of uses, earning it a cherished spot in many delectable treats:
Moulded treats: Thanks to its pliability, and can be shaped into a variety of forms, such as fruits, animals, or flowers, and subsequently painted with food colouring for a realistic appearance. These charming creations often serve as edible decorations or make for unique gifts.
Marzipan chocolate: Marzipan and chocolate often pair up, either as a filling or with the marzipan enveloped in a chocolate shell, offering a delectable blend of nutty and sweet flavours.
Baked goods: Many traditional European pastries and cakes, like stollen, Battenberg cake, and Simnel cake, incorporate marzipan, adding a sweet, nutty contrast to the other ingredients.
Topping or filling: It can also act as a topping or filling for cookies, tarts, or other desserts, infusing every bite with a distinct, almond-infused sweetness.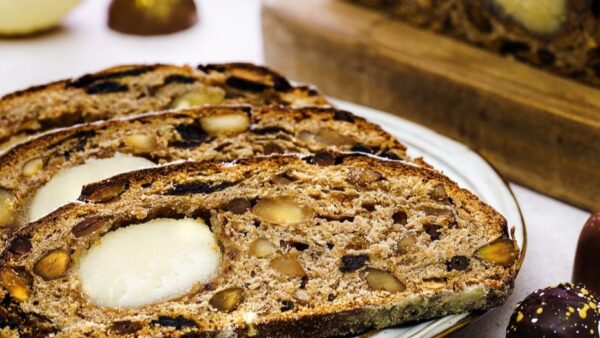 A Sweet and Timeless Treat
It is an incredibly versatile and delicious confection with a rich history. Its tantalizing mix of simple yet delectable ingredients make it a star in many culinary creations, from moulded treats to baked delights. Whether you're a long-time fan or a curious newbie, it's always the perfect time to explore its sweet world and the gastronomic adventures it promises.
Now that you're well-versed with marzipan, why not indulge a bit? Try Walnut Tree's exquisitely crafted marzipan fruits and vegetables that are bursting with flavour. Go ahead, order now, and treat yourself or a loved one to a charming and delicious gift!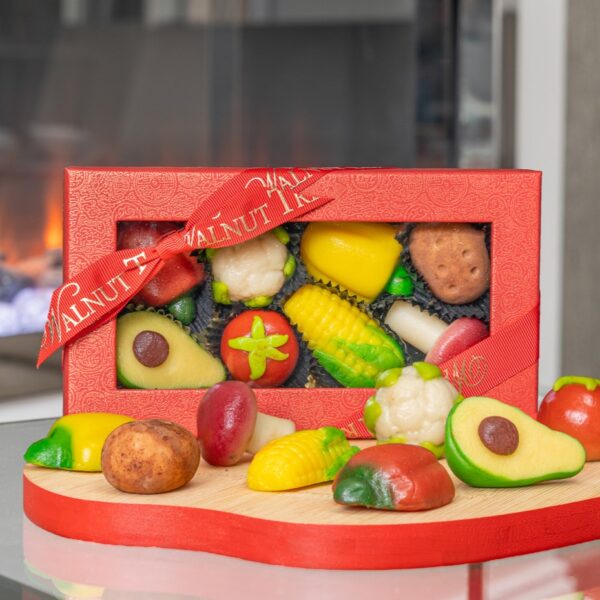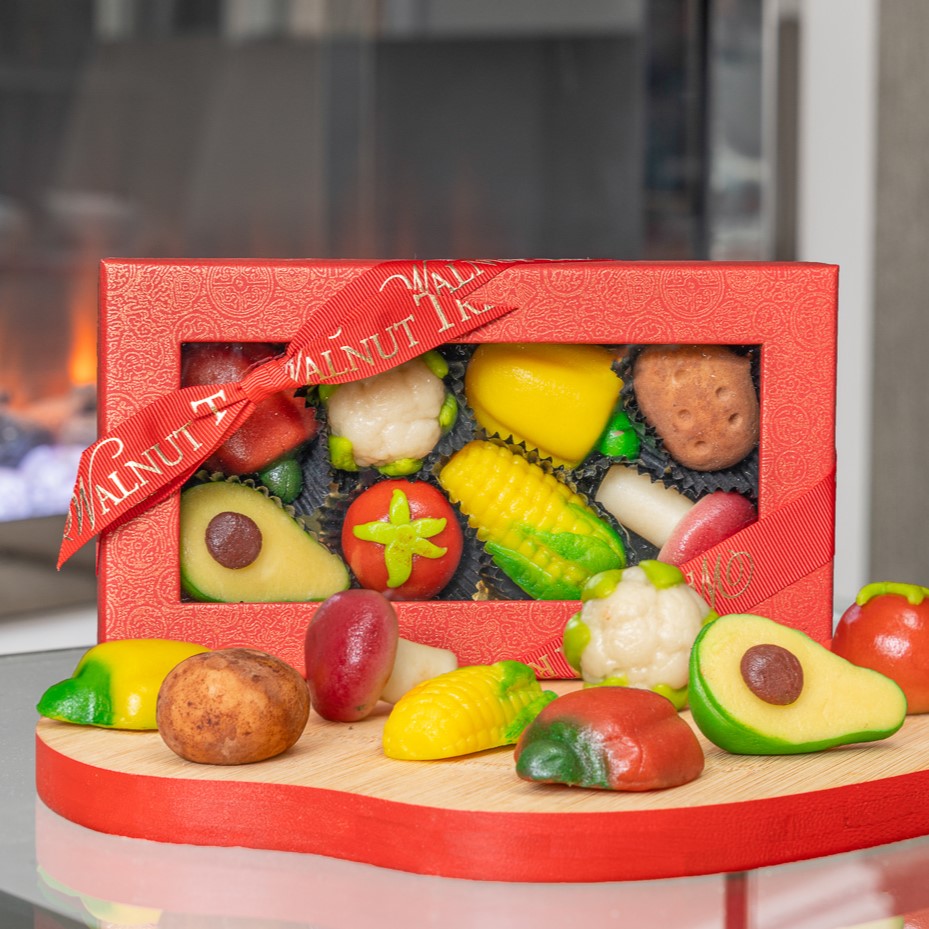 References:
https://en.wikipedia.org/wiki/Marzipan
https://www.foodandwine.com/desserts/its-finally-marzipan-season-again
https://www.allrecipes.com/article/what-is-marzipan/
Read about Walnut Tree
Great Taste Awards
With Great Taste Awards for marron glacé, glacé fruit, dark chocolate ginger and pate de fruit. You will always be purchasing quality products from Walnut Tree.
Who we supply
Supplied under own brand or white label to prestigious stores, palaces, castles, stately homes, garden centres, delicatessens, farm shops, hamper companies, department stores and gift shops.
Why buy from us?
You're buying directly from the source and will get excellent value for money. If you're not happy with your purchase, we'll refund or replace it. The website is open 24/7, orders despatched within 48 hours.
Our charitable contributions
Walnut Tree supports Future Dreams Breast Cancer Charity with dried fruit for their care packages. www.futuredreams.org.uk
Local areas to our factory
AL1 | AL2 | AL3 | AL9 | AL10 | EN6 | EN5 | EN4 | NW4 | NW7 | NW9 | WD6 | WD7 | WD17 | | WD19 | WD23 | WD24 | WD25 | Aldenham | Barnet | Borehamwood  | Brent X | Bushey | Colney Street | Edgware | Elstree | Finchley | Frogmore | Hatfield | Hendon | Hertfordshire | Hertsmere | Leavesden | London Colney | Mill Hill | New Barnet | North London | Potters Bar | Radlett | Shenley | South Mimms | Stanmore | St. Albans | Southgate | Watford | Welham Green | Whetstone | Woodside Park