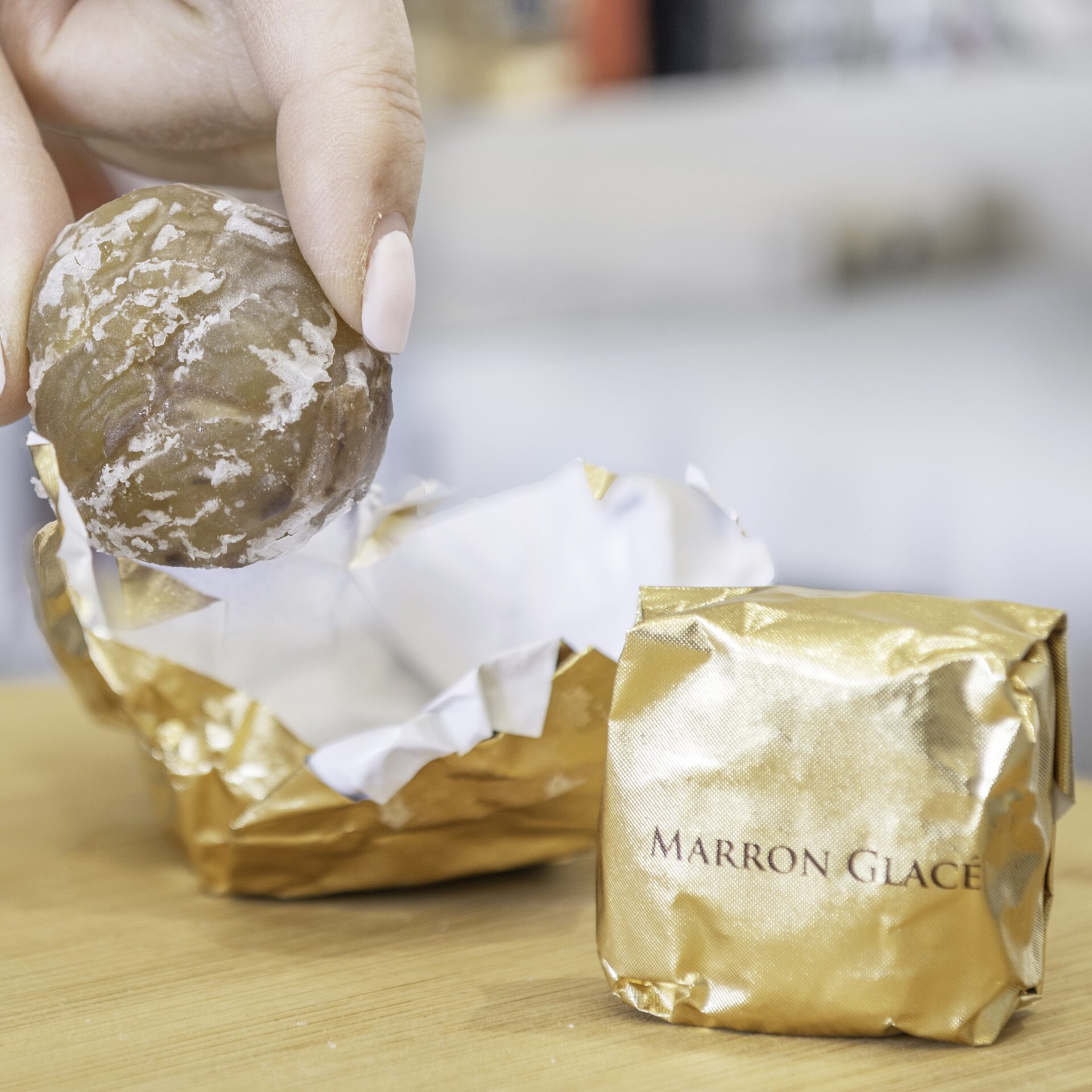 Discover the Intriguing History of Marron Glace
Discover the Intriguing History of Marron Glace
Indulge in a confectionery journey that spans centuries as we unravel the intriguing history of marron glace. A delicacy savoured across the globe, marron glace or candied chestnuts are as fascinating as they are delicious. As we travel from ancient times to modern-day, we'll discover why this sweet   treat has stood the test of time.
What is a Marron Glace?
Marron glace, or candied chestnuts, are a cherished French delicacy, particularly during the festive season. This luxurious sweet involves drying and candying chestnuts in a meticulous process, which imparts them with a soft texture and a unique, subtly sweet flavour.
While the creation of marron glace is time-consuming and calls for exquisite attention to detail, the outcome is a delectable treat worth every effort. Each chestnut is typically wrapped individually to maintain its delicate shape. Originating in the 16th century around Lyon, marron glace has found a cherished place in the confectionery world. Whether savoured solo or paired with a warm cup of tea, each bite of marron glace is a piece of history unfolding on your palate.
Origins of Marron Glace
The journey of marron glace starts far before the 16th century, tracing back to the Greeks' ingenuity. Ancient Greeks had the custom of candying fruits with honey, a method used to prolong their shelf life. This practice carried over to the Romans, who spread it throughout their expansive empire.
In the Middle Ages, this sugar-infusion technique was regarded as almost sacred, carefully guarded by monastic communities to prevent it from becoming a widespread, and potentially sinful, indulgence. But the sweet allure of candied fruit could not be contained for long. During the Renaissance, this technique resurfaced, delighting the taste buds of Venetian and Florentine ladies.
As we know it, the marron glace had its grand debut in the 16th century at Versailles, presented by the chef Pierre de la Varenne to King Louis XVI. Shortly after, Clément Faugier established the first company exporting marron glacés in Ardèche, maintaining the quality and methods to this day.
While the city of Lyon in France holds a claim to the invention of marron glacés, Italy also asserts its rights to the delicacy. Known as "marroni canditi" in Italy, it's believed that the French might have initiated the idea, but the Italians perfected it. Nowadays, even new players like Portugal and Spain have joined the ranks, exporting this centuries-old delicacy. Whether French or Italian, the marron glace remains a timeless treasure, transcending borders with its luscious sweetness.
How to Candy Chestnuts
Creating your own marron glace at home may seem daunting, but with a little patience and the right technique, you'll be enjoying these succulent treats in no time. Here's how you can recreate the magic of marron glace:
Start by blanching 500g fresh chestnuts in boiling water for 4 minutes, drain, then peel while still warm.
In a heavy-based pan, dissolve 300g of caster sugar into 300 ml of water and bring to a boil. This will form your syrup base. Let it simmer for 10 minutes, then add the chestnuts and let them simmer for another 7-8 minutes. Once done, remove it from the heat and let it stand overnight in the syrup.
On the following day, bring the chestnuts and syrup back to the boil and cook for a minute, then remove from the heat and cool. You'll need to repeat this boiling and cooling process two or three times over the next few days until all the syrup is absorbed.
Preheat your oven to around 70°C, spread the candied chestnuts on a tray lined with baking paper, then place in the oven. Prop open the door and leave for about 2 hours or until firm. The result? Delectably sweet marron glace right in the comfort of your own home!
Making marron glace is undoubtedly an exercise in patience and precision. However, every bite of the soft, sweet, candied chestnut is a delicious testament to the effort and time that goes into making it. The sweetness lingers, much like the rich history behind this beloved treat.
Final Thoughts
Why not experience this treasured delicacy for yourself? Visit Walnut Tree's shop today and discover our delightful selection of marron glace. Each bite promises a taste of history and an unforgettable flavour experience. Dive into the delicious world of marron glace with Walnut Tree – buy our AWARD WINNING delectable treats today!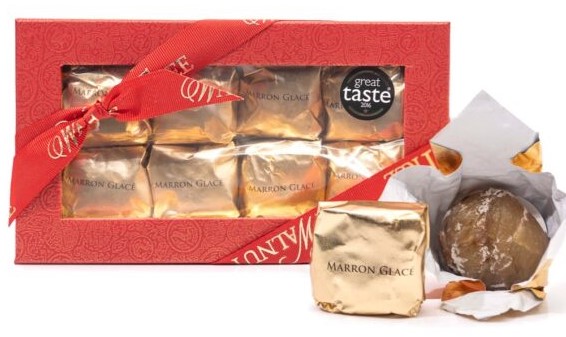 Read about Walnut Tree
Great Taste Awards
With Great Taste Awards for marron glacé, glacé fruit, dark chocolate ginger and pate de fruit. You will always be purchasing quality products from Walnut Tree.
Who we supply
Supplied under own brand or white label to prestigious stores, palaces, castles, stately homes, garden centres, delicatessens, farm shops, hamper companies, department stores and gift shops.
Why buy from us?
You're buying directly from the source and will get excellent value for money. If you're not happy with your purchase, we'll refund or replace it. The website is open 24/7, orders despatched within 48 hours.
Our charitable contributions
Walnut Tree supports Future Dreams Breast Cancer Charity with dried fruit for their care packages. www.futuredreams.org.uk
Local areas to our factory
AL1 | AL2 | AL3 | AL9 | AL10 | EN6 | EN5 | EN4 | NW4 | NW7 | NW9 | WD6 | WD7 | WD17 | | WD19 | WD23 | WD24 | WD25 | Aldenham | Barnet | Borehamwood  | Brent X | Bushey | Colney Street | Edgware | Elstree | Finchley | Frogmore | Hatfield | Hendon | Hertfordshire | Hertsmere | Leavesden | London Colney | Mill Hill | New Barnet | North London | Potters Bar | Radlett | Shenley | South Mimms | Stanmore | St. Albans | Southgate | Watford | Welham Green | Whetstone | Woodside Park