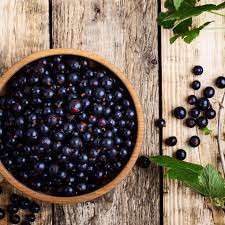 Best Sweet and Spicy Nuts in Hertfordshire
Blackcurrant – the flavouring you didn't know your body needed
I don't think I've ever eaten a blackcurrant in its natural state. Juices, jams and jellies sure, but as a fruit, never! This wasn't surprising when I found out that 95% of blackcurrants grown in the UK are used for making Ribena and other fruit juices and syrups. Americans also may not have come across blackcurrants because it was actually illegal to grow the plant in the states. As plant infections have destroyed white pine trees with a disease called white pine blister rust. Blackcurrant is still illegal in some states but scientists are working on a way to make the trees immune to the disease.
However, in our Sweet and Spicy Nut Boxes, we bring to you an absolute gem – blackcurrant covered Almonds; and these we can say we have tasted. And enjoyed. Immensely.
Made by a family run business in Greece to their secret recipes. They pride themselves on being one of the first companies with the creativity and technology to coat and caramelise nuts of all shapes and sizes. We pack them right here in the UK, in our factory in Shenley Hertfordshire.

What is the process for blackcurrant coated almonds?
Blackcurrant covered nuts are made using blackcurrant powder, not the berry in its original form. The almonds are candied first by heating them in a pan with sugar and water until there is no liquid remaining. They can then be coated in the powder.


Nutritional Value of blackcurrant
Blackcurrant contains the same nutrients in its powdered form as it does in its original state. It is extremely high in vitamin C – quadruple the amount found in oranges – as well as vitamins A, E and B. Other minerals you can find in blackcurrant include: calcium, iron, manganese, phosphorus and magnesium
Blackcurrants also contain a lot of antioxidants that boost the immune system and can help bring down inflammation, easing pain in joints and muscles. As well as this, they can lower the levels of bacterial and viral infections.
Another benefit of blackcurrant is its high potassium and GLA content, which is very good for heart health, and reduces cholesterol.
Research has also shown that blackcurrants are good for our eyes. They reduce fatigue in the eye and also slow down the worsening of glaucoma.
Even the dentist will be happy with you. Blackcurrant juice has been shown to decrease the build-up of plaque in teeth.
We haven't forgotten to talk about the almonds – we've written a whole separate blog on the health benefits of almonds here.
If you like sweet and spicy nuts what don't you try our
Read about Walnut Tree
Great Taste Awards
With Great Taste Awards for marron glacé, glacé fruit, dark chocolate ginger and pate de fruit. You will always be purchasing quality products from Walnut Tree.
Who we supply
Supplied under own brand or white label to prestigious stores, palaces, castles, stately homes, garden centres, delicatessens, farm shops, hamper companies, department stores and gift shops.
Why buy from us?
You're buying directly from the source, so will get excellent value for money. If you're not happy with your purchase, we'll refund or replace it. The website is open 24/7, orders despatched within 48 hours.
Our charitable contributions
Walnut Tree supports Future Dreams Breast Cancer Charity with dried fruit for their care packages. www.futuredreams.org.uk
Local areas to our factory
AL1 | AL2 | AL3 | AL9 | AL10 | EN6 | EN5 | EN4 | NW4 | NW7 | NW9 | WD6 | WD7 | WD17 | | WD19 | WD23 | WD24 | WD25 | Aldenham | Barnet | Borehamwood  | Brent X | Bushey | Colney Street | Edgware | Elstree | Finchley | Frogmore | Hatfield | Hendon | Hertfordshire | Hertsmere | Leavesden | London Colney | Mill Hill | New Barnet | North London | Potters Bar | Radlett | Shenley | South Mimms | Stanmore | St. Albans | Southgate | Watford | Welham Green | Whetstone | Woodside Park