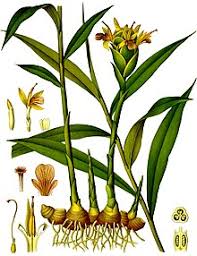 Health Benefits of Ginger
Health Benefits of Ginger
What is Ginger exactly?

It is a plant that was first discovered in Southeast Asia but is now grown worldwide. The biggest ginger producer in the world is India, who in 2008 produced 893,242 tonnes of it! Its Latin name is Zingiber officinale which is also believed to mean 'spice' in Sanskrit. The plant usually grows to around 1m high and bears flowers of purple and yellow. The part that we consume is the root.
It can be eaten in many ways: fresh or dried, as a spice, as a liquid or made into tablets or capsules.
Nutritional Value of Ginger
Raw ginger is about 79% water, 18% carbohydrate, 2% protein and 1% fat, so is a very low GI food and fairly low in nutrient content. It does however contain traces of iron, potassium, magnesium, zinc and Vitamins C, B3 and B6.
Health Benefits of Ginger
It is a long-standing ingredient in medicines and herbal remedies. Historical references date  back to before the Greeks. Its properties are good for:
Easing stomach pain, indigestion and reducing nausea
Reducing inflammation and osteoarthritis (joint pain)
Lowering blood sugar levels and reducing risk of heart disease
Lowers the risk of certain cancers
Relieving menstrual cramps
Helping fight common cold symptoms and other infections
Helping with weight loss
Reducing cholesterol
Improving brain function and preventing Alzheimer's
Walnut Tree Ginger Sticks
Our crystallised stem ginger sticks enrobed in dark chocolate will tease your taste buds and warm your insides. And as we have established from this article, your health will benefit from this special snack.
Food Blogger David (Chocolatier.co.uk) said of our ginger, "The ginger sticks are the real star treat in this box. If you are frequently disappointed by lacklustre crystallised stem ginger, try these. Each stick has a texture similar to Scottish tablet, and packs a powerful punch together with a lovely fiery heat, and a little sweetness and fruitiness from the dark chocolate. Forget your supermarket crystallised ginger this year – get a box of these and you'll be seriously impressed by these inch-long beasts."
In case you need another Our Ginger sticks even won a Great Taste Award when we submitted them for entry in 2017.
You can find our them on our website www.walnut.gifts or on Amazon.
Ginger, Lemon and Orange in Chocolate, £12

Chocolate Ginger Sticks (Online Exclusive), £5
Read about Walnut Tree
Great Taste Awards
With Great Taste Awards for marron glacé, glacé fruit, dark chocolate ginger and pate de fruit. You will always be purchasing quality products from Walnut Tree.
Who we supply
Supplied under own brand or white label to prestigious stores, palaces, castles, stately homes, garden centres, delicatessens, farm shops, hamper companies, department stores and gift shops.
Why buy from us?
You're buying directly from the source, so will get excellent value for money. If you're not happy with your purchase, we'll refund or replace it. The website is open 24/7, orders despatched within 48 hours.
Our charitable contributions
Walnut Tree supports Future Dreams Breast Cancer Charity with dried fruit for their care packages. www.futuredreams.org.uk
Local areas to our factory
AL1 | AL2 | AL3 | AL9 | AL10 | EN6 | EN5 | EN4 | NW4 | NW7 | NW9 | WD6 | WD7 | WD17 | | WD19 | WD23 | WD24 | WD25 | Aldenham | Barnet | Borehamwood  | Brent X | Bushey | Colney Street | Edgware | Elstree | Finchley | Frogmore | Hatfield | Hendon | Hertfordshire | Hertsmere | Leavesden | London Colney | Mill Hill | New Barnet | North London | Potters Bar | Radlett | Shenley | South Mimms | Stanmore | St. Albans | Southgate | Watford | Welham Green | Whetstone | Woodside Park