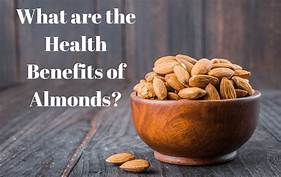 Health Benefits of Almonds
Health Benefits of Almonds
National Almond Day. 16th February.
10 Facts and Health Benefits of Almonds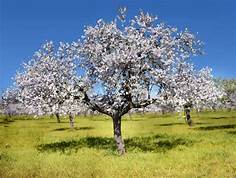 1.General information about almonds
Health Benefits of Almonds. It's National Almond Day on the 16th February so here's a few interesting facts and health benefits why you should be eating them. Almonds are the edible seed of the Prunus dulcis tree. Known at the almond tree. Originally native to the Middle East and India but now the USA is the world's largest producer.
Almonds are among the world's most popular nuts. High in nutrition, rich in healthy monounsaturated fats, antioxidants, proteins, fibres, vitamins and minerals and important nutrients. Each nut is a nutrient powerhouse and truly deserves its superfood status.
2.Health Benefits of Almonds. Almonds boast a remarkable amounts of nutrients.
A handful of almonds, an approximate 28-grams serving contains 161 calories and 2.5 grams of digestible carbohydrates.
Fibre: 3.5 grams
Protein: 6 grams
Fat: 14 grams (9 of which are monounsaturated)
Vitamin E: 37% of the RDI
Manganese: 32% of the RDI
Magnesium: 20% of the RDI
They also contain a good amount of copper, vitamin B2 (riboflavin) and phosphorus.
In addition, you might not realise that your body does not absorb 10-15% of their calories because some of the fat is inaccessible to the digestive system. High levels of phytic acid also prevents them from being absorbed. But this will decrease the amount of iron, zinc and calcium that is absorbed into the body.
3 Health Benefits of Almonds. Almond antioxidants levels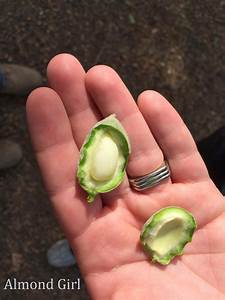 For those who don't know, including myself. Firstly, antioxidants help protect against oxidant stress which can damage the molecules in your cells. This bodily stress can contribute to inflammation, premature aging of the skin and illnesses like cancer. Antioxidants are mainly found in the brown skin that protects the white fleshy nut. So, if you're eating them purely for healthy reasons try to avoid blanched almonds.
4.Health Benefits of Almonds. Almonds are high in vitamins
Secondly, almonds packed full of vitamin E, part of the family of fat-soluble antioxidants, which help to protect and nourish the cell membranes. They help to rejuvenate bone density and revitalise the immune system by widening blood vessels to improve blood flow, lowering the rates of heart disease, some cancers and Alzheimer's disease and numerous other illnesses.
5.Health Benefits of Almonds. Almonds can help with regulating blood sugar.
People with type 2 diabetes are often deficient in magnesium. High levels of magnesium in almonds help to control blood sugar level as well brain health, mood and sleep patterns. By helping this deficiency blood levels are reduced, and insulin functions improve. Almonds are low in carbohydrates but high in healthy fats, proteins and fibres. Making them an excellent sugar free snack for people with metabolic syndromes that can lead to type 2 diabetes.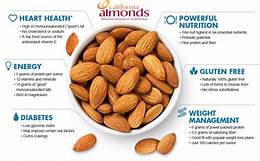 6.Health Benefits of Almonds. Blood pressure levels.
Thirdly, it has been reported that by increasing the intake of magnesium you can reduce your blood pressure. High blood pressure is one of the leading causes of heart attacks, strokes and kidney failures. Studies have shown that maintain a good and consistent level of magnesium can help with the reduction in blood pressure. Because, almonds are easy to add to your diet, their potential benefits will aid in levelling your blood pressure.
7.Health Benefits of Almonds. Almonds can help lower your Cholesterol Levels.
A well know risk factor for heart disease are high levels of LDL lipoproteins, colloquially known as "bad" cholesterol. Your diet can have a major impact on your LDL levels. Some studies have shown that almonds included in your diets will effectively lower this level.
So, go one eat a handful or two a day and help yourself to reduce the risk of heart disease. Especially on National Almond Day.
8.Health Benefits of Almonds. Almonds prevent harmful oxidation of LDL (low density lipoprotein) cholesterol.
Almonds can help to reduce the LDL levels in your blood. They also protect you from oxidation, which are internal indications of heart disease. You need to snack regularly on almonds for over two month before the levels of oxidized LDL decreases and your vascular functions improve.
9.Health Benefits of Almonds. Eating Almonds can reduce hunger pains.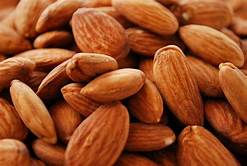 Almonds are low in carbohydrates and high in proteins and fibres. These two attributes increase the feeling of fullness. This can help you eat fewer calories. Similarly they are high in fat, so the reduction in your calorific intake will help support you in the battle to lose weight. Moreover, to reduce the fat round your belly and thighs try snacking on almonds. They are a weight loss friendly food.
10.Naughty Almonds.
And finally, natural almonds are easy to snack on but once proceed into almond, butter, milk or flour can be easily introduced into your daily cooking. A bonus for those who are follow vegan diets and kosher diets. Walnut Tree sells bulk 1 kilo bags of premium quality almonds. Go give yourself and the family a treat for National Almond Day the health benefits of almonds is incredible.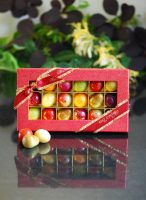 And for those who want to eat almonds with a naughty twist try the marzipan fruits made exclusively for Walnut Tree.
Walnut Tree Gifts is one of the UK's leading packers of superior quality dried fruit, nuts and chocolate.
Working in partnership with high-quality retailers since 1995.
We're the only company with Great Taste Awards for marron glacé, glacé fruit, dark chocolate ginger and pate de fruit. So, you're never more than a click away from some delicious delicacies.
The website is open 24/7. We will despatch your order within 48 hours.
We're always happy to offer advice. Call or email us. We pride ourselves on our excellent service.
If you're not happy with your purchase, we'll refund or replace it.
This year, Walnut Tree is supporting Future Dreams Breast Cancer Charity with dried fruit and nuts for the care packages they distribute to patients in hospitals throughout London.