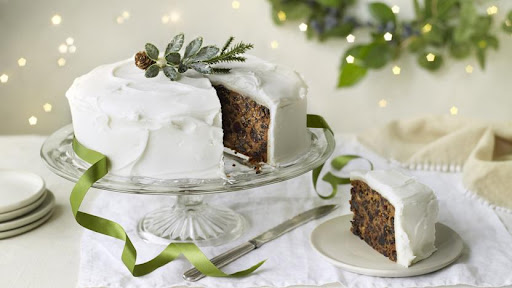 Best Christmas Cake Recipes
 Best Christmas Cake Recipes
Traditionally made worldwide. Christmas cake is typically made with alcohol infused dried fruit and nuts.  We've found some great Christmas cake recipes, and we're really excited to share them with you! … so read through and click on the links to access the recipes.
This classic Christmas cake is one from UK celebrity chef Mary Berry. She has been in the limelight of cooking and baking shows for decades. Most recently, she's been on The Great British Bake Off, which achieved some international fame – you may know her as the sweet, elderly judge from that show.
This cake is the epitome of a classic British Christmas cake, from the raisins and sultanas running through the dense sponge to the use of apricot jam to stick marzipan and icing to the outer layer of the cake.
To get the best texture possible for the almonds in this cake, we would recommend purchasing your own uncooked almonds, and then blanching them yourself. We offer premium almonds sure to be ideal for a cake like this one – simply boil for two minutes, submerge in an ice bath, and they're ready to use!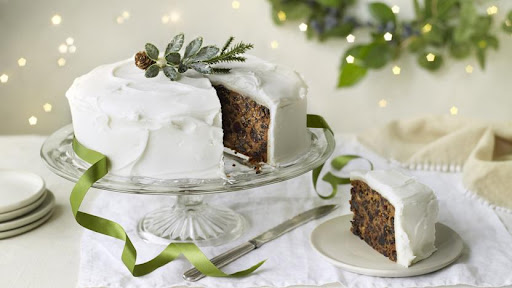 Salted caramel is something that' has increased in popularity over recent years,  This cake offers a spectacular twist by creating the flavour with a combination of dulce de leche, black treacle, and toffee. giving you a complex, rich, and wonderfully profound Christmas cake that's very hard to say no to.
There are a lot of nuts in this recipe, including hazelnuts, pecan nuts, and flaked almonds. To be sure that your cake has the best texture and flavor possible, we would certainly recommend securing your own supply of premium nuts.
We offer some premium hazelnuts to be bought in bulk, kilogram bags. This will help you to reduce the cost of the overall cake that you're making, while also ensuring that your finished product is as tasty as possible – there's nothing quite like premium nuts when compared to the cheaper options you might find in a supermarket.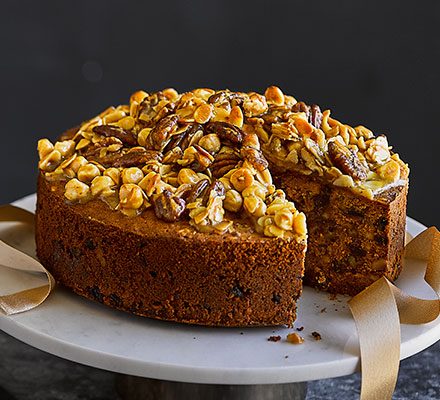 Making Christmas cakes has been a tradition in Greece and Cyprus for many years. As Cyprus was, once upon a time, a British colony. During that time, a number of British traditions became part of the culture of the island, including plentiful Christmas cake.
This cake has some pieces of candied eggplant in it, which is rare for any cake. Especially a Christmas cake.
We adore the use of dried strawberries. They contain some wonderful flavours, and are sweet without being too unhealthy. Our bulk bag of dried strawberries is wonderful, and would be for this cake – they're dried slowly, creating a sweet, delicate flavor and texture that combines to result in a bright, rounded final effect.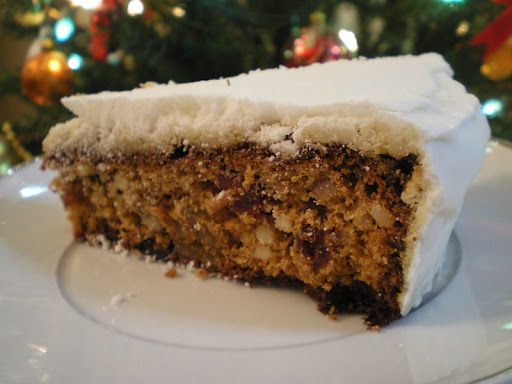 Read about Walnut Tree
Great Taste Awards
With Great Taste Awards for marron glacé, glacé fruit, dark chocolate ginger and pate de fruit. You will always be purchasing quality products from Walnut Tree.
Who we supply
Supplied under own brand or white label to prestigious stores, palaces, castles, stately homes, garden centres and delicatessens.
Why buy from us?
You're buying directly from the source and will get excellent value for money. If you're not happy with your purchase, we'll refund or replace it. The website is open 24/7, orders despatched within 48 hours.
Our charitable contributions
Walnut Tree supports Future Dreams Breast Cancer Charity with dried fruit for their care packages. www.futuredreams.org.uk
Local areas to our factory
AL1 | AL2 | AL3 | AL9 | AL10 | EN6 | EN5 | EN4 | NW4 | NW7 | NW9 | WD6 | WD7 | WD17 | | WD19 | WD23 | WD24 | WD25 | Aldenham | Barnet | Borehamwood  | Brent X | Bushey | Colney Street | Edgware | Elstree | Finchley | Frogmore | Hatfield | Hendon | Hertfordshire | Hertsmere | Leavesden | London Colney | Mill Hill | New Barnet | North London | Potters Bar | Radlett | Shenley | South Mimms | Stanmore | St. Albans | Southgate | Watford | Welham Green | Whetstone | Woodside Park