Traditional Nougat
Traditional Nougat
What you need to know about Traditional Nougat
It  is a wonderful sweet treat that seems to come out every single Christmas time – it's easy to see why! It's delicious, decadent, and wonderfully luxurious. This means that it makes a wonderful present for a loved one or even a small gift for yourself.
In this article, we're going to walk through everything that you need to know about nougat, from its origins to some common additions to the sweet stuff.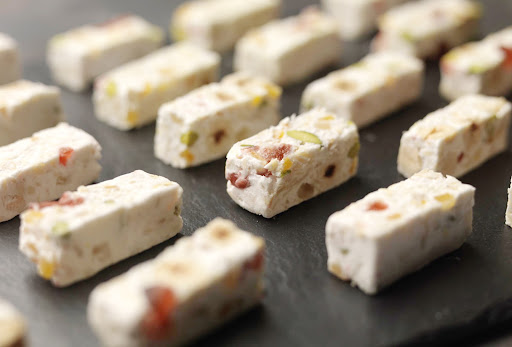 What is nougat?
It is, essentially, a traditional form of candy. Made with sugar or honey, roasted nuts, chopped fruit, and egg whites. When combined in the traditional way, the sugar and egg whites form a type of soft, sticky meringue, that is delicately light and chewy.
Artisanally made nougat can vary a little depending upon the country of origin, but there are two main types of nougat out there in the world.
The first type is white nougat. Chefs make this with egg whites and honey, forming a soft, chewy confectionary. This came from what is now Spain, in the seventh century.
The other type is brown nougat. Typically made without egg whites, which leads to a much firmer, crunchier texture. Italians refer to it as 'croccante', meaning 'crunchy'.
Walnut Tree sells white nougat, made with egg whites. It's delicate and soft in texture, and can pull apart very well – it's easy to feel that the egg whites have been gently whipped into their current texture.
Traditional Nougat with nuts 
There are many different nuts commonly used in nougat, which is likely a legacy of its Arab inventors from the 7th century: many Arab recipes contain nuts since a number of nut plants grow well in Arabic climates.
Almonds, walnuts, pistachios, hazelnuts, and macadamia nuts are all common since there are a number of different types of nougat. This means that, across the different types, a range of nuts get a look-in.
Our nougat includes pistachios as the primary nuts, which we're particularly fond of. Their gentle creaminess really interacts well with the strong sweetness of the other ingredients, leading to a tasty nougat.
Another nut that we enjoy seeing used in traditional nougat is almonds, which bring a slightly more distinctive flavour to the table than pistachios do. They're a little sweeter than other nuts, plus their toothsome texture holds up well in the hot sugar, leading to a more complex final texture.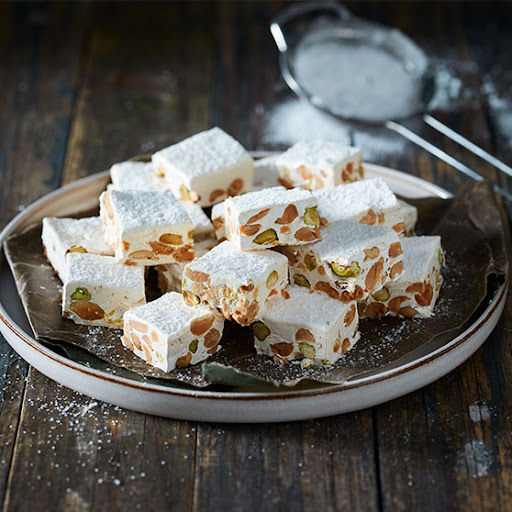 Traditional Nougat with fruit
Chefs use many different types of colourful candied fruit, from papaya to banana, from strawberry to cranberry.
Our nougat contains strawberry and cranberry. These powerful flavours really bring something to the simple base of nougat, creating a complex and tasty final confectionary that's deeply moreish.
Another common fruit ingredient is candied or dried cherries – the strong, heady taste of cherries brings a lot of punch to a mouthful of nougat, especially when the chunks are kept quite large within the nougat itself.
It is a magical confectionary that's adored the world over. Commonly eaten over the holiday season, and we can't recommend it enough. Try a few bites with a steaming mug of coffee – the sweetness and the bitterness make a great combination!
Read about Walnut Tree
Great Taste Awards
With Great Taste Awards for marron glacé, glacé fruit, dark chocolate ginger and pate de fruit. You will always be purchasing quality products from Walnut Tree.
Who we supply
Supplied under own brand or white label to prestigious stores, palaces, castles, stately homes, garden centres, delicatessens, farm shops, hamper companies, department stores and gift shops.
Why buy from us?
You're buying directly from the source and will get excellent value for money. If you're not happy with your purchase, we'll refund or replace it. The website is open 24/7, orders despatched within 48 hours.
Our charitable contributions
Walnut Tree supports Future Dreams Breast Cancer Charity with dried fruit for their care packages. www.futuredreams.org.uk
Local areas to our factory
AL1 | AL2 | AL3 | AL9 | AL10 | EN6 | EN5 | EN4 | NW4 | NW7 | NW9 | WD6 | WD7 | WD17 | | WD19 | WD23 | WD24 | WD25 | Aldenham | Barnet | Borehamwood  | Brent X | Bushey | Colney Street | Edgware | Elstree | Finchley | Frogmore | Hatfield | Hendon | Hertfordshire | Hertsmere | Leavesden | London Colney | Mill Hill | New Barnet | North London | Potters Bar | Radlett | Shenley | South Mimms | Stanmore | St. Albans | Southgate | Watford | Welham Green | Whetstone | Woodside Park