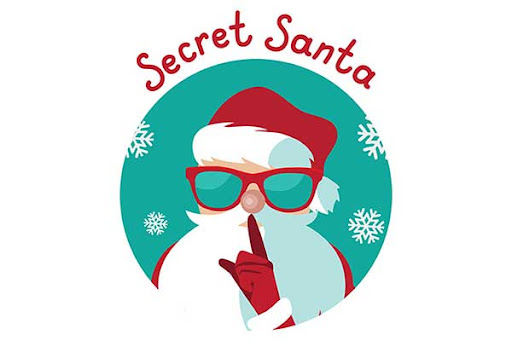 Best Secret Santa Gifts
Secret Santa is one of those things that you might have some trouble really wrapping your head around. You've got busy day-to-day, and considering what to get for a friend or colleague could be a little too much.
In this article, we're going to talk a little about what secret Santa is, and then we're going to give you some great options for gifting.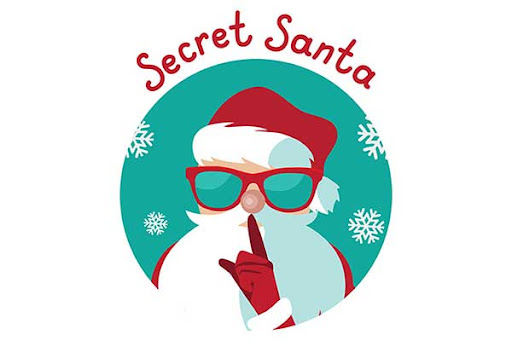 The history of Secret Santa
Secret Santa is a simple game, at its heart. If a group of people plays secret Santa, then it means that each member of the group is randomly assigned another member, and told to buy a gift for them. The idea is that no gift-giver ever reveals themselves, meaning that you could feel free to buy a joke gift with no explanation of who pulled the prank.
For example, in a ten-person group, each person would only have to buy and receive one gift, rather than ten. Furthermore, the budget for the individual gifts is generally agreed upon well in advance, allowing people to make sure that they don't overspend for their colleagues and friends.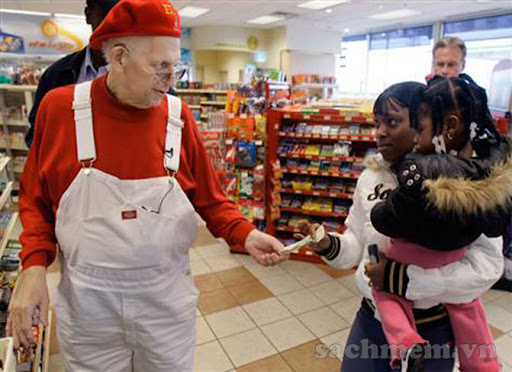 People generally think that Larry Dean Stewart (above) came up with the concept of Secret Santa. From 1979 to 2006, he handed out small amounts of cash throughout Kansas city while dressed as Santa. The idea was that he would remain anonymous (and he did for a while), so he was christened Secret Santa. This idea caught the imagination of the general public and gradually changed into the form of the secret Santa that we know today.
Secret Santa gift ideas
Great gift ideas can be hard, but we've got some great options from our site that we're sure you'll love!
Vegan options
We really like our caramelized nut gift box as a vegan option – it contains no animal products whatsoever, ensuring that it can be enjoyed by any vegan out there in the world. It's a beautifully wrapped and simple option, containing cashews, almonds, and peanuts that are sure to bring a tasty snack into someone's life. What's not to love?
Halal options
Our award-winning glace fruit is a great option for a secret Santa gift that's totally halal suitable. The beautiful box contains glace orange slices, pineapple halves, pears, cherries, and apricots. These sweet treats combine to form a tasty and wonderful option that's adored by many people around the world.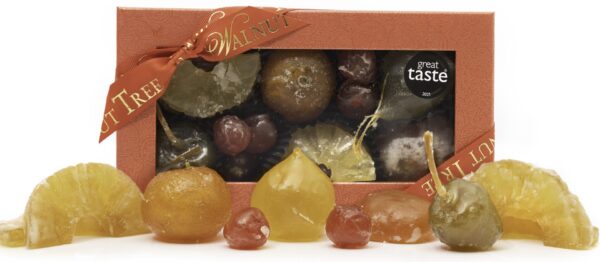 Gluten-free options
A gluten-free gift can be tricky, but our nougat makes an excellent gluten-free secret Santa gift! The bars contain pistachio, strawberry, caramel, and cranberry, leading to a taste sensation, especially when combined with soft, sweet nougat. To top it off, they're not very expensive, which is suitable for a budget-oriented secret Santa.
Finding the best secret Santa gifts will allow you to be the talk of the office as you give and receive some wonderful gifts among your colleagues. Take a look at some of the options we've shared here, and we're sure you'll have found something suitable in no time at all.
Read about Walnut Tree
Great Taste Awards
With Great Taste Awards for marron glacé, glacé fruit, dark chocolate ginger and pate de fruit. You will always be purchasing quality products from Walnut Tree.
Who we supply
Supplied under own brand or white label to prestigious stores, palaces, castles, stately homes, garden centres, delicatessens, farm shops, hamper companies, department stores and gift shops.
Why buy from us?
You're buying directly from the source and will get excellent value for money. If you're not happy with your purchase, we'll refund or replace it. The website is open 24/7, orders despatched within 48 hours.
Our charitable contributions
Walnut Tree supports Future Dreams Breast Cancer Charity with dried fruit for their care packages. www.futuredreams.org.uk
Local areas to our factory
AL1 | AL2 | AL3 | AL9 | AL10 | EN6 | EN5 | EN4 | NW4 | NW7 | NW9 | WD6 | WD7 | WD17 | | WD19 | WD23 | WD24 | WD25 | Aldenham | Barnet | Borehamwood  | Brent X | Bushey | Colney Street | Edgware | Elstree | Finchley | Frogmore | Hatfield | Hendon | Hertfordshire | Hertsmere | Leavesden | London Colney | Mill Hill | New Barnet | North London | Potters Bar | Radlett | Shenley | South Mimms | Stanmore | St. Albans | Southgate | Watford | Welham Green | Whetstone | Woodside Park