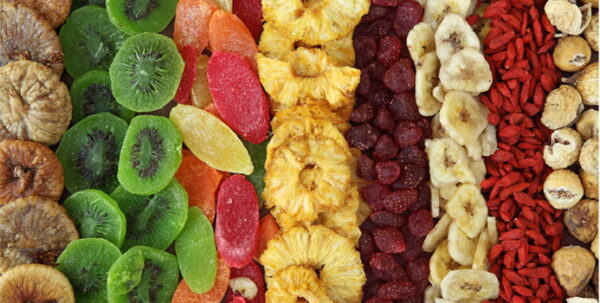 How to Dry Fruit
How to Dry Fruit. Drying your own fruit can be a really efficient way to make sure that you've got plenty of fruit on hand for any situation – a filled pantry is a useful one! In this article, we're going to run you through some of the best ways to dry your own fruit.
Stone Fruit. 
Stone fruit requires a little more work to dry than non-stone fruit since the pit of most fruits contains chemicals that can be toxic when cooked. So, to dry apricots, mango, peaches, or any other stone fruit, you must first ensure that the stone is utterly and completely removed.
After the stone is removed from the fruit, remove any outer peel., Slice the pieces of fruit to the thickness your preferred thickness. Any thickness will work well, but we would recommend keeping the thickness consistent across a batch – this will ensure it's all done at the same time.
Transfer the pieces of fruit to a baking sheet, and make sure that the pieces aren't touching one another. Keeping the oven door open ever so slightly to allow steam to leave the fruit, heat the oven to 170˚F. Then, allow the fruit to dry for between four and eight hours, tossing the fruit every thirty minutes.
Allow the dried fruit to stand overnight, or for at least twelve hours, before placing the dried fruit in storage containers.

How to Dry Fruit. Non-stone Fruit
Non-stone fruit is a little easier to prepare since you don't have to factor the removal of the stone into the preparation time. However, you do still have to peel and slice the fruit. So, from oranges to kiwi, remove the skin, and slice the fruit into uniformly-sized pieces.
After the fruit is prepared, place all of the pieces onto lined baking sheets, with gaps between the pieces themselves. Ensure that there is a vertical gap between the trays, which is to say that they're not stacked on top of one another in the oven. Allowing for an inch or more space around the trays of fruit will allow for steam to circulate and dissipate, leading to the fruit drying more effectively.
Preheat the oven to 170˚C before placing each of the sheets into the oven. When they're in there, keep the oven door slightly ajar to allow steam to escape. Then sit the fruit in the oven for four to eight hours. Remember, properly dried fruit will be a little chewy, not squishy or crispy.
Allow the dried fruit to stand at room temperature for twelve hours, and then place it into storage containers. For both stone and non-stone fruit, we would recommend storage containers that are airtight. This will prevent water vapor from partially rehydrating the fruit at all.
Dried fruit will keep in your pantry for an exceptionally long time., It can work as an ingredient or a straight snack – either is a wonderful way to make use of the tasty treat.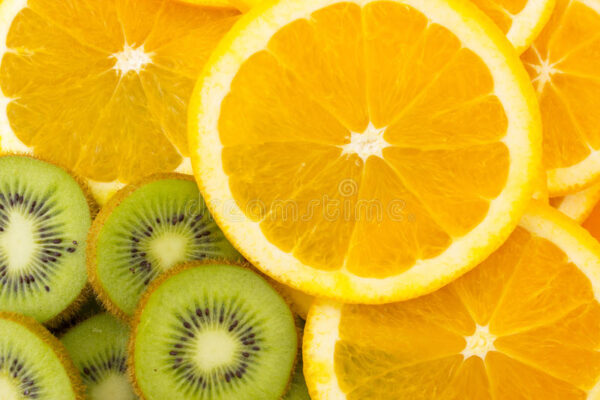 Our simple dried fruit gift box is a great way to get a few different types of great dried fruit into your diet in an easy way. Since we present our fruit beautifully well, it also makes a pretty and beneficial gift for anyone in your life.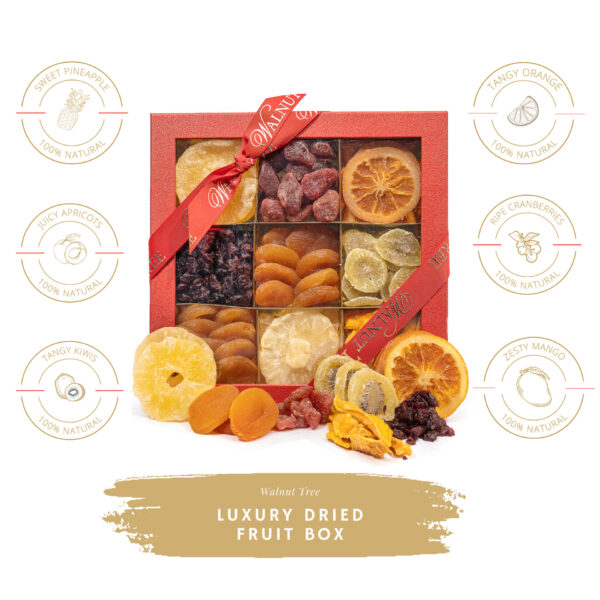 Read about Walnut Tree
Great Taste Awards
With Great Taste Awards for marron glacé, glacé fruit, dark chocolate ginger and pate de fruit. You will always be purchasing quality products from Walnut Tree.
Who we supply
Supplied under own brand or white label to prestigious stores, palaces, castles, stately homes, garden centres, delicatessens, farm shops, hamper companies, department stores and gift shops.
Why buy from us?
You're buying directly from the source and will get excellent value for money. If you're not happy with your purchase, we'll refund or replace it. The website is open 24/7, orders despatched within 48 hours.
Our charitable contributions
Walnut Tree supports Future Dreams Breast Cancer Charity with dried fruit for their care packages. www.futuredreams.org.uk
Local areas to our factory
AL1 | AL2 | AL3 | AL9 | AL10 | EN6 | EN5 | EN4 | NW4 | NW7 | NW9 | WD6 | WD7 | WD17 | | WD19 | WD23 | WD24 | WD25 | Aldenham | Barnet | Borehamwood  | Brent X | Bushey | Colney Street | Edgware | Elstree | Finchley | Frogmore | Hatfield | Hendon | Hertfordshire | Hertsmere | Leavesden | London Colney | Mill Hill | New Barnet | North London | Potters Bar | Radlett | Shenley | South Mimms | Stanmore | St. Albans | Southgate | Watford | Welham Green | Whetstone | Woodside Park