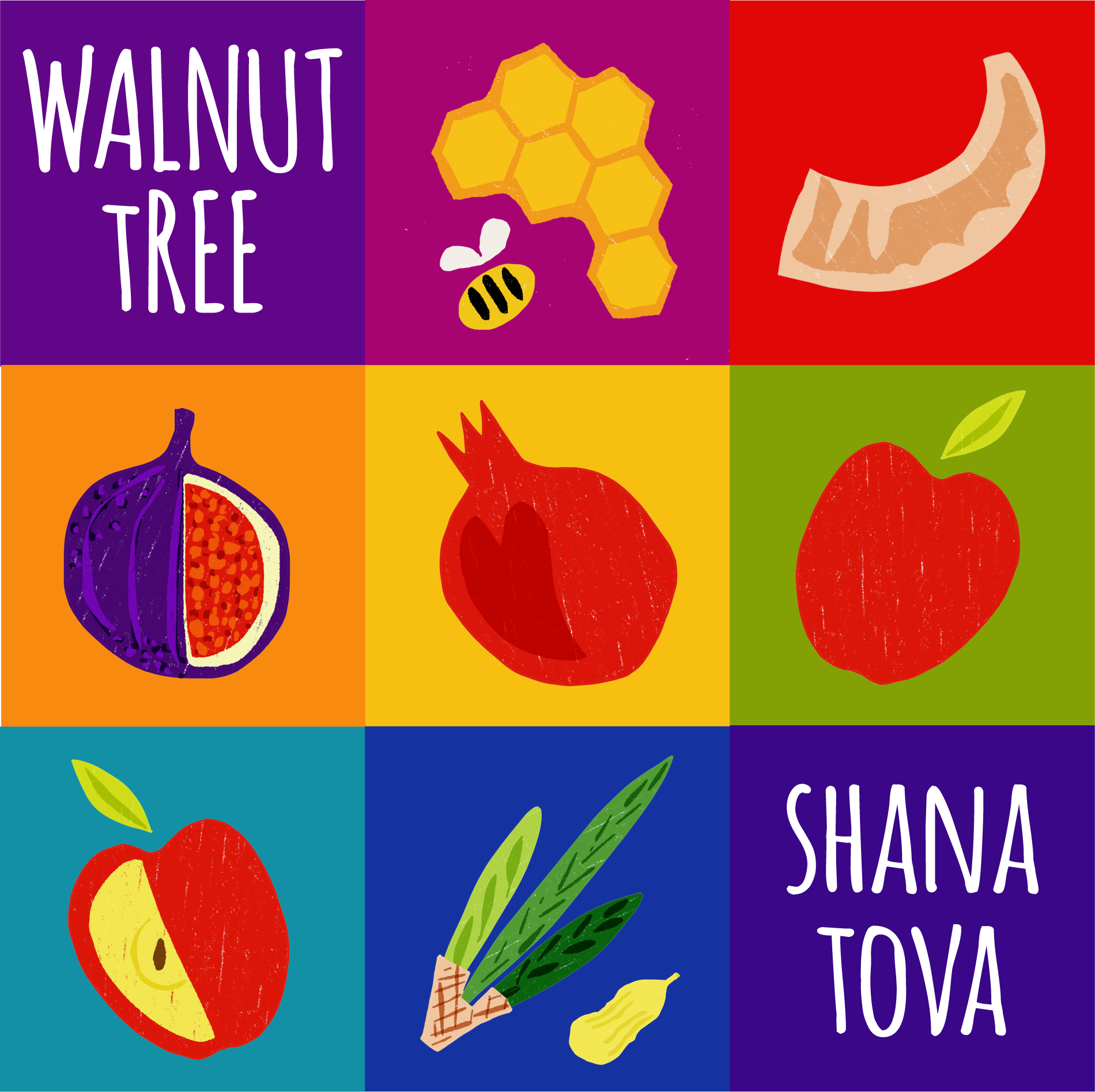 Best Rosh Hashanah Gifts
Rosh Hashanah is the Jewish New Year. It's a time to give and receive gifts. We at Walnut Tree have developed a range of the Best Rosh Hashanah Gifts, that can be shared with family and friends.
Our range can be purchased on-line and despatched to most UK destinations. However, if you want to pick-up a gift, check out your local kosher stores. We're certified kosher under the auspices of the London Beth Din. Whether you buy directly from us or from your local stockists – people love exchanging great food on Rosh Hashanah. 
To read about our Best Rosh Hashanah Gifts scroll down.
Best Rosh Hashanah Gift. A great present to share with family and friend over Rosh Hashanah. An extra large gift box hand filled with dried apple rings, succulent apricots, tangy cranberry, tart peach, mellow pear and sweet pineapple. This gift box sits comfortably next to a luxurious scroll filled with rich dark chocolate discs topped with nuts. Certified kosher under the auspices of the LBD. An exclusive gift only available through Walnut Tree. We think its the Best Rosh Hashanah Gift for family and friends, And it's suitable for vegan, vegetarian and gluten free diets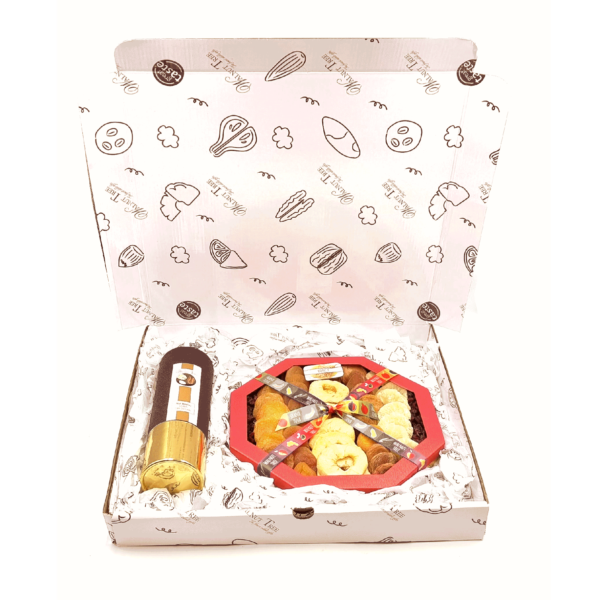 This Deluxe Rosh Hashanah Hamper is the Mount Sinai of gifts. Crammed with a wide array of culinary delights that will delight the recipient ensuring your a place at their table for years to come!!
So, what's been hand packed in this hamper?
A hamper box of succulent dried fruits, including apple and honey, a gift box of honeyed nut brittle and one of of natural nuts and a selection of our rich dark chocolates. Including our nut or cranberry and raspberry topped chocolate discs, thickly enrobed brazilnuts and half dipped strips of tangy mango.
There's something to for kiddish, to enjoy with a whiskey or glass of wine, and a hot drink at the end of meal. All dietary bases are covered, with products for vegan, vegetarian and gluten free diets in this Deluxe Rosh Hashanah Hamper.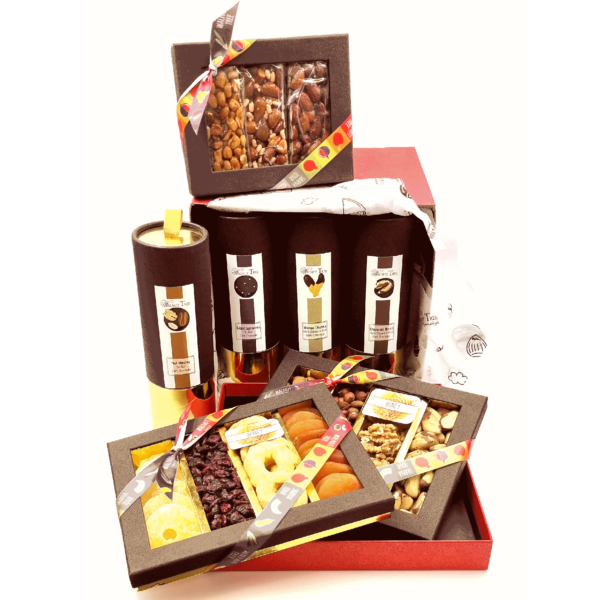 Want to give a Luxury Rosh Hashanah Hamper ? This is the one. A beautifully hand packed hamper box indulged with the best Walnut Tree delights.
Succulent dried fruits, healthy and wholesome nuts, honeyed nut brittle and hand made chocolates. Each presented in a bowed gift box that will delight and enthral the fortunate recipient of the thoughtful gift.
There's plenty to share at kiddish or with a glass of whiskey, whilst keeping back a few favourite delights for another time. The selection included luxuries for those with vegan, vegetarian and gluten free diets.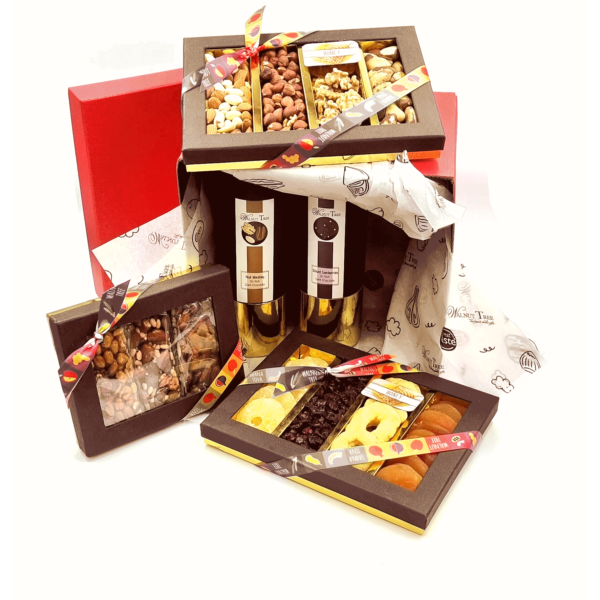 This gift set contains three distinct boxes – one containing wonderful dried fruit, including plenty of apple and honey. The second box contains a range of natural, premium nuts ideal for anyone looking for a great snack, and the final box contains six individually wrapped bars of honey nut brittle.  Something sweet, something healthy and something yummy.
Great to put out with kiddish, with a whiskey or glass of wine or to share at the end of meal with a hot drink. You chose what to share and what to keep!! . The Perfect Rosh Hashanah Gift.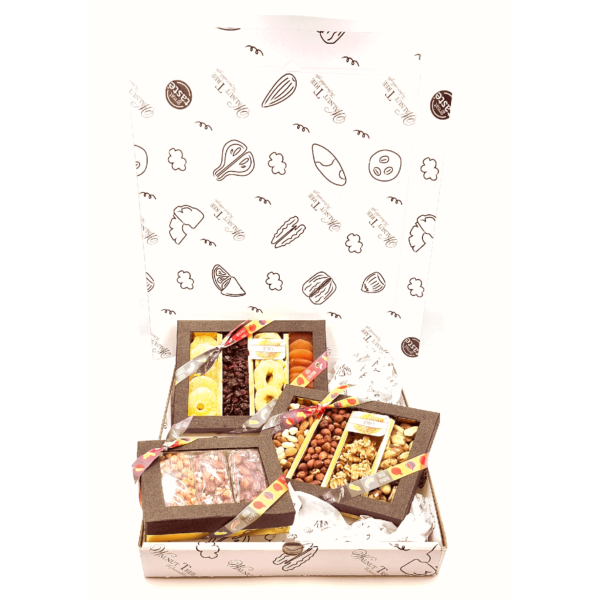 Rosh Hashanah Luxury Chocolate Gift. Six scrolls (not the Torah type) filled with luxurious dark chocolate dipped fruits and nuts. Hand made to a unique recipe by our professional chocolatier, this the perfect gift for connoisseurs of chocolate.
What's in the gift?  Our classic dark chocolate discs crowned with nuts or cranberries and raspberries, stripes of mango, whole succulent apricots and slices of orange half dipped in smooth dark chocolate and to complete the gift, brazilnuts enrobed in an extra thick layer of moreish chocolate, And to complete the gift a box of apple and honey.
They're great to accompany a hot drink at the end of a meal or to savour with a glass of whiskey or wine. Certified kosher by the LBD, this range is also suitable for vegan, vegetarian and gluten free diets. A Rosh Hashanah Luxury Chocolate Gift that will delight the taste buds and ensure a Happy New Year.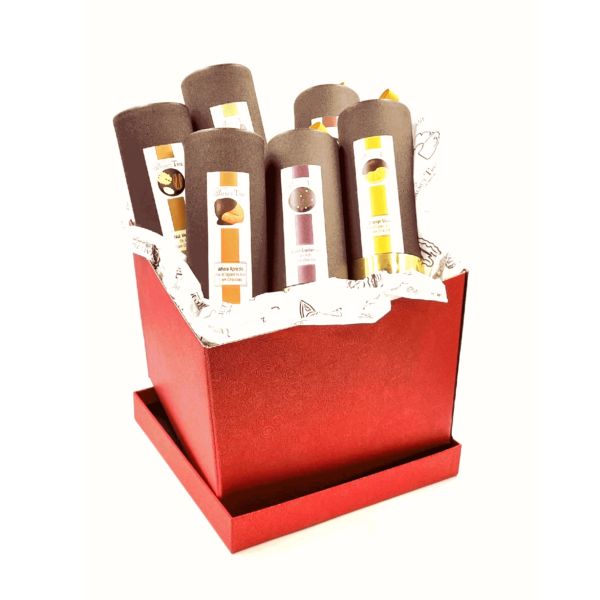 Three scrolls, each one filled with a delightful rich dark chocolate treat. What's your favourite? the half dipped mango or the chocolate discs topped with assorted nuts or cranberry and raspberry. Made in the UK by our talented chocolatier, they have become synonymous with Rosh Hashanah.  The are perfect to put out for kiddish or to accompany a hot drink at the end of a meal.
This luxurious Rosh Hashanah gift  is only available through our website. Limited availability so order without delay and give your family, friends or work colleagues a present they will truly appreciate.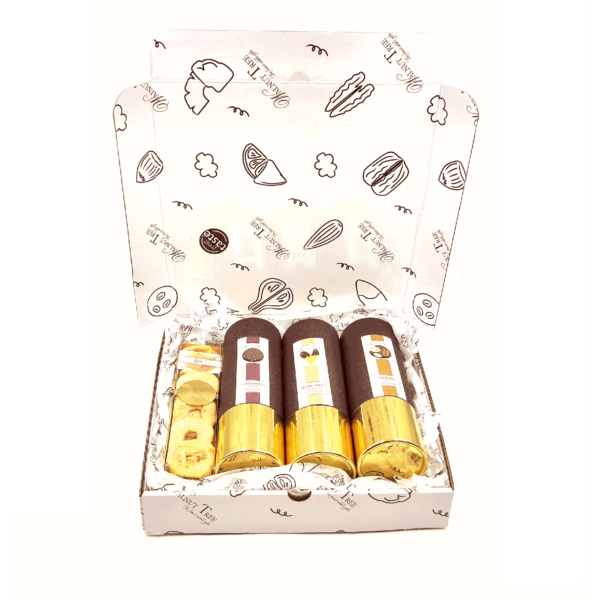 Gift Wrapping Service 
Gift wrapping and personalised message available, please fill out the form at the check-out or email orders@walnut.gifts.
Charitable Donation for Rosh Hashanah 
For every gift purchased through our website Walnut Tree will make a donation to either Jewish Women's Aid or Evie's Night Owls. Let everyone be a winner.
Read about Walnut Tree
Great Taste Awards
With Great Taste Awards for marron glacé, glacé fruit, dark chocolate ginger and pate de fruit. You will always be purchasing quality products from Walnut Tree.
Who we supply
Supplied under own brand or white label to department stores, palaces, castles, stately homes, garden centres and hamper companies
Why buy from us?
You're buying directly from the source and will get excellent value for money. If you're not happy with your purchase, we'll refund or replace it. The website is open 24/7, orders despatched within 48 hours.
Our charitable contributions
Walnut Tree supports Future Dreams Breast Cancer Charity with dried fruit for their care packages. www.futuredreams.org.uk
Local areas to our factory
AL1 | AL2 | AL3 | AL9 | AL10 | EN6 | EN5 | EN4 | NW4 | NW7 | NW9 | WD6 | WD7 | WD17 | | WD19 | WD23 | WD24 | WD25 | Aldenham | Barnet | Borehamwood  | Brent X | Bushey | Colney Street | Edgware | Elstree | Finchley | Frogmore | Hatfield | Hendon | Hertfordshire | Hertsmere | Leavesden | London Colney | Mill Hill | New Barnet | North London | Potters Bar | Radlett | Shenley | South Mimms | Stanmore | St. Albans | Southgate | Watford | Welham Green | Whetstone | Woodside Park