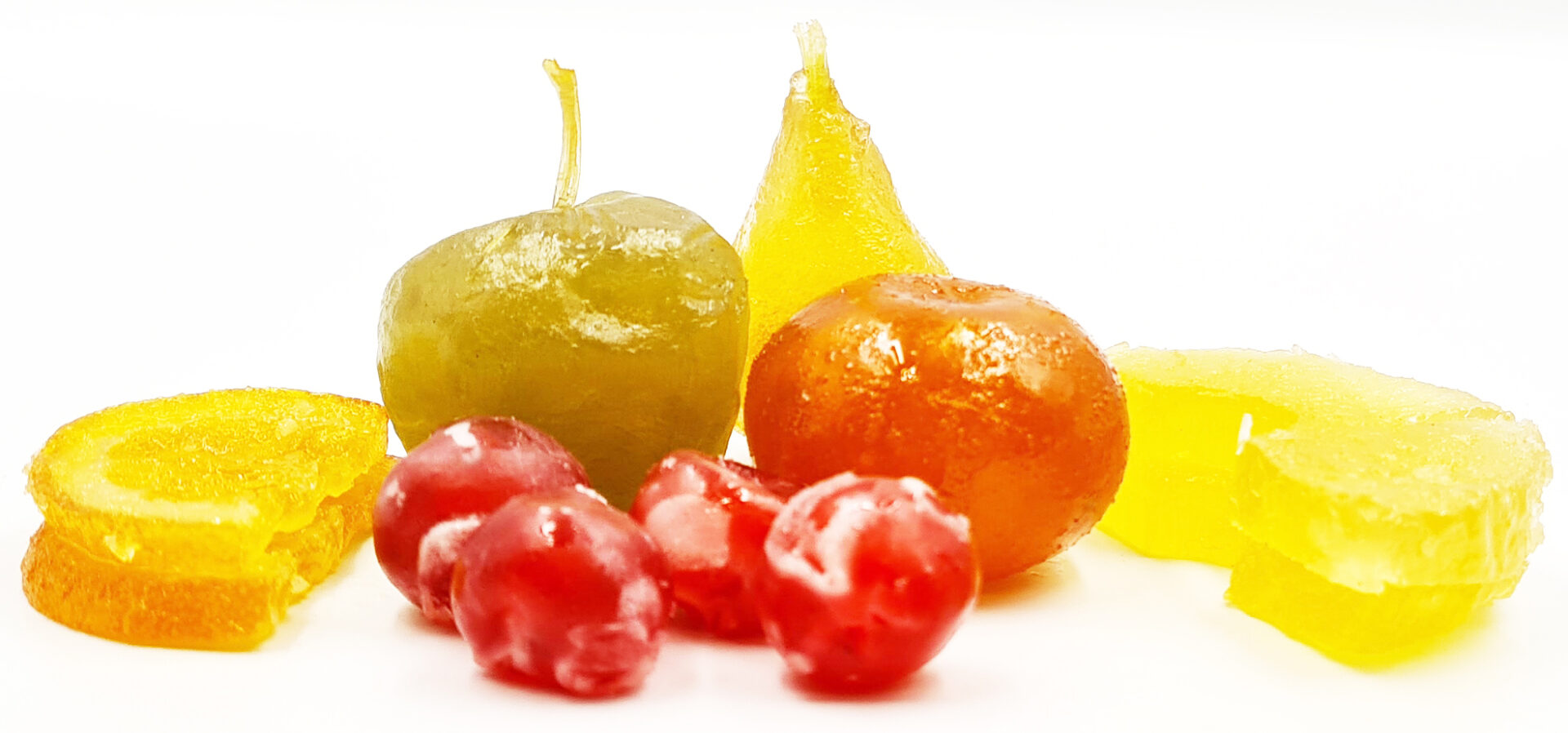 Early Gifts for Christmas
Early Gifts for Christmas
Christmas might seem like it's a thousand years away at the moment, and we understand why you might feel that way – it seems to approach at a snail's pace, before suddenly being upon us! The potential pressures this year of rising heating bills, the cost of petrol and the general increase in the cost of living might persuade you start buying your Christmas gifts early this year.
To be as stress free as possible for the holiday season, we would recommend getting your Christmas gifts and presents sorted well in advance. Sometimes, Christmas certainly feels like it's the holiday of the season that adores eating the most. So, we recommend you sort things early – you'll be ready before you know it.
In this article, we are talking about some great gifting options to buy ahead of time – items that have a long shelf life, will be perfectly safe and tasty to eat this Christmas, regardless of whether you buy them now or in a few months' time, whether they are gifts or for yourself.
Early Gifts for Christmas. Nougat
Our premium nougat, is elegant and impressive, Four individually wrapped bars. Made in Italy and hand packed in the UK. Flavours include, strawberry, pistachio, salted caramel and classic nut. . Every bite with satisfy the taste buds and bring warmth and love. Ideal to have with a hot drink or when the munchies strike.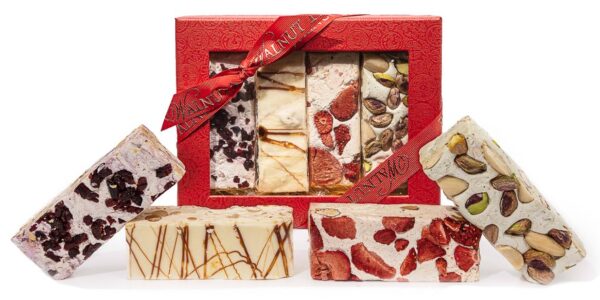 Marzipan Fruit
Our marzipan fruits are perfect for those who love marzipan. Marzipan is a wonderful way to be sure that you're getting as much spectacle as possible in a relatively small snack. While this might sound like a slightly odd goal, we would suggest running with it – well-made marzipan fruit is beautiful and delicious in equal measure!
We offer a range of premium marzipan fruit that are beautiful and tasty. The thing that really makes them a Christmas-time staple, however, is the fact that they're so bite-sized. After stuffing yourself with a huge meal, you likely want something small and sweet to bring you a little cherry on top of the meal. Marzipan fruit is a great way to do that – small, delicate, and powerfully sweet,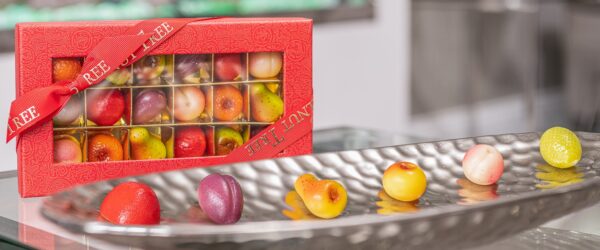 Early Gifts for Christmas. Glace Fruit
Where you want to eat it as a treat or put it on the top of your Christmas cake. Glace fruit is a great way to break up the stodginess of a heavy Christmas meal – it's sweet, light, beautifully textured, and brightly flavoured. Our personal product is something elegant and extravagant for anyone looking for a sweet treat – we offer pineapple slices, cherries, and apricots, just to name a few.
Great glace fruit is delicate, moreish, and divine. We're sure that, once you try out glace fruit, you'll feel that it tastes precisely like that.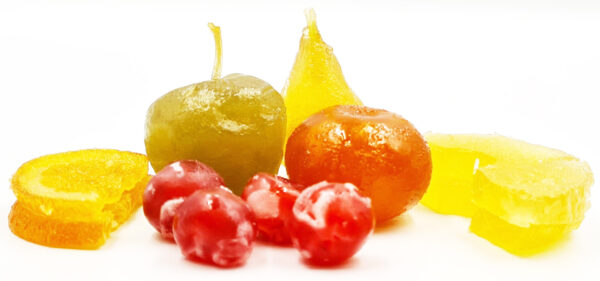 Chocolate Nuts
A selection of chocolate-covered nuts makes a great centre piece for the post-feast snacking extravaganza. Not only are they satisfying and moreish, but they're delicious, too!
Our selection box is presented in a gift box, perfect for something pretty on the big day itself.
We also ensure that the product contains as much of the product itself as possible, while keeping the minimum possible packaging – you're getting as much for your money as possible. Consider this collection of brazil nuts, almonds, hazelnuts, and pecans for your Christmas spread this year. With a long shelf life buy it now and save it for the big day … that's if you can !!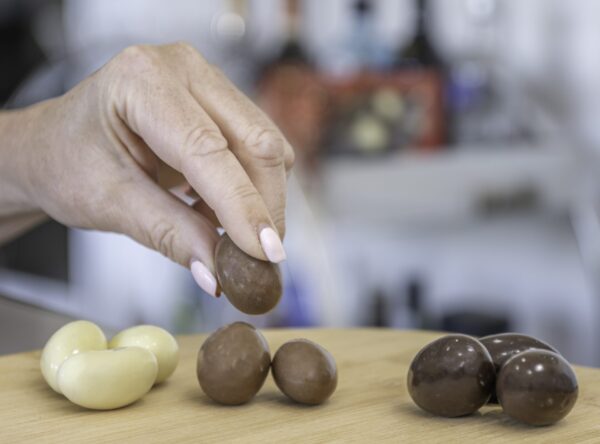 Read about Walnut Tree
Great Taste Awards
With Great Taste Awards for marron glacé, glacé fruit, dark chocolate ginger and pate de fruit. You will always be purchasing quality products from Walnut Tree.
Who we supply
Supplied under own brand or white label to prestigious stores, palaces, castles, stately homes, garden centres, delicatessens, farm shops, hamper companies, department stores and gift shops.
Why buy from us?
You're buying directly from the source and will get excellent value for money. If you're not happy with your purchase, we'll refund or replace it. The website is open 24/7, orders despatched within 48 hours.
Our charitable contributions
Walnut Tree supports Future Dreams Breast Cancer Charity with dried fruit for their care packages. www.futuredreams.org.uk
Local areas to our factory
AL1 | AL2 | AL3 | AL9 | AL10 | EN6 | EN5 | EN4 | NW4 | NW7 | NW9 | WD6 | WD7 | WD17 | | WD19 | WD23 | WD24 | WD25 | Aldenham | Barnet | Borehamwood  | Brent X | Bushey | Colney Street | Edgware | Elstree | Finchley | Frogmore | Hatfield | Hendon | Hertfordshire | Hertsmere | Leavesden | London Colney | Mill Hill | New Barnet | North London | Potters Bar | Radlett | Shenley | South Mimms | Stanmore | St. Albans | Southgate | Watford | Welham Green | Whetstone | Woodside Park