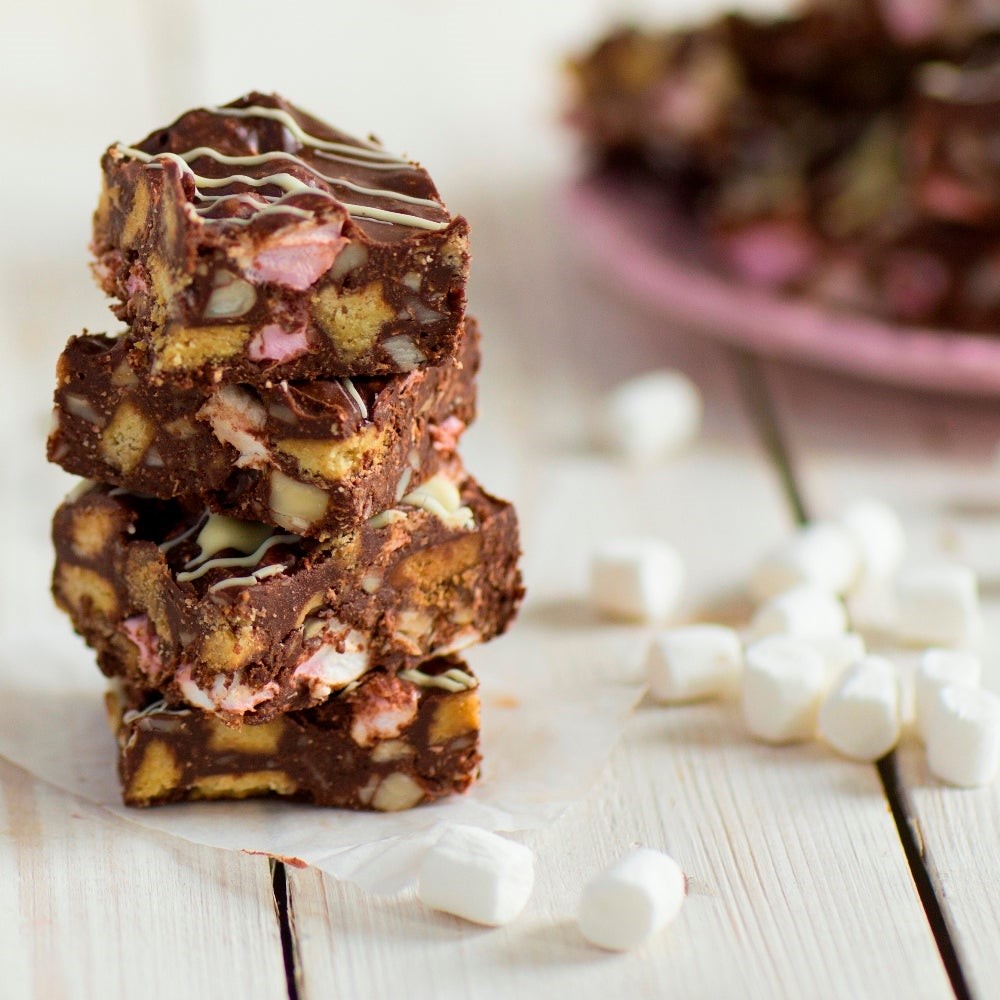 Best Rocky Road in London
Rocky Road
What is it ?
Rocky Road is pieces of chocolate containing fragments of other foods, such as dried fruits, nuts, marshmallows and biscuits. It's also called  'Tiffin' or Junk Slice !
While it is often classed as junk food, it certainly does not have to consist of high sugar foods. Its an incredibly easy dessert to make – simply melt the chocolate, throw in whatever you want, and refrigerate until it has hardened. You can cut it into squares or slabs – or really any shape you like! Just beware… it's called Rocky Road for a reason – mind those fingers!
History of Rocky Road

Where did the idea of this combination of chocolate, nuts and fruit come from? According to Wikipedia, it was first documented in 1853 in Australia. Apparently, sweetmeats that were going off after making the long sea journey from Europe to Oz were mixed in with the local chocolate and nuts. So nothing was wasted. The invention was named Rocky Road after the underdeveloped roads leading to the gold mines.
It seems that this confection was popular because many American companies have tried to claim the invention of as their own. Perhaps we may never know the true origin…
What to put in your mixture
Now there's a question! Obviously, the chocolate is the number one ingredient. But as for everything else, the options are endless!
You could go for an Australian style – marshmallows, shredded coconut, peanuts and glace cherries.
You could try a more British approach – biscuits, Rice Krispies and dried fruit.
Or how about the classic American style – marshmallows and almonds or walnuts.

Here's what I like to add to mine…
I like melting chocolate – milk or dark, and mixing in:
Some crushed honeycomb
Mini Marshmallows
Cashew Nuts (our Honey Roasted Cashews would be perfect!)
Read more about us, our story, the Great Taste Awards we've won and why we have a passion for superior tasting gifts and snacks.
We've been working in partnership with high-quality retailers since 1995.
We're the only company with Great Taste Awards for marron glacé, glacé fruit, dark chocolate ginger and pate de fruit. So you're never more than a click away from some delicious delicacies.
The website is open 24/7. We will dispatch your order within 48 hours. We're always happy to offer advice. Call or email us. We pride ourselves on our excellent service. We are local to these areas
AL1 | AL2 | AL3 | AL9 | AL10 | EN6 | EN5 | EN4 | NW4 | NW7 | NW9 | WD6 | WD7 | WD17 | | WD19 | WD23 | WD24 | WD25 | Aldenham | Barnet | Borehamwood  | Brent X | Bushey | Colney Street | Edgware | Elstree | Finchley | Frogmore | Hatfield | Hendon | Hertfordshire | Hertsmere | Leavesden | London Colney | Mill Hill | New Barnet | North London | Potters Bar | Radlett | Shenley | South Mimms | Stanmore | St. Albans | Southgate | Watford | Welham Green | Whetstone | Woodside Park