Mother's Day
History of Mother's Day
Mother's Day. The tradition of honouring Mary, mother of Jesus, the Mother Church and Mother Nature sometimes known as "mothers of earthly homes" is our starting point for Mother's Day. And can be dated back to the medieval times when the Church was the focus and power behind many communities.
However, over the centuries and especially since the 1920's with Hallmark Cards introduction specifically produced greetings cards, the day has evolved and developed into a global day to honour mothers, grandmothers, aunts and sisters. In fact all women.
Many countries link the positive energy it brings with International Women's Day. A day of greater awareness for specifically female missions and the world recognises women for their multi-talented achievements.
When is Mother's Day?
Known religiously, as Mothering Sunday this year it falls on the 14th March. The fourth Sunday in Lent in the lead up to Easter. The date set by the lunar and not the Gregorian calendar. Often celebrated sometime in March.
What happens on Mother's Day?
Members of the Roman Catholic and Anglican Church will visit the Church of their baptism. Others will engage in a Church based activity. However, the commercialisation by advertisers and the media has transformed it into a popular holiday for all regardless of faiths. Often celebrated as a family time holiday, with mothers, grandmothers, aunts and sister being honoured and pampered. Making it a special Mother's Day.
What gifts do people give?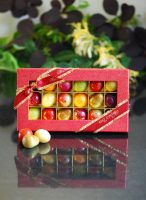 As Mothering Sunday coincides with the start of the spring season, flowers are often a popular choice. But a beautiful handwritten card tucked into a box of your mothers favourite Walnut Tree goodies is the best Mother's Day gift.  Perfect presents for your mother include hand packed boxes of marzipan fruit, marron glace and chocolate covered nuts .
Has Mother's Day always been based on a religious holiday?
No, in 1908, Anna Jarvis held a memorial service for her mother at St Andrews  Methodist Church in West Virginia. She believed that a mother is "the person who  has done more for you than anyone else in the world" Wanting to perpetuate the memory of her mother, she energised a movement to lobby congress. In 1924, American President Woodrow Wilson signed an order declaring the second Sunday in May to be Mother's Day.
Read more about us, our story, the Great Taste Awards we've won and why we have a passion for superior tasting gifts and snacks.
We've been working in partnership with high-quality retailers since 1995.
We're the only company with Great Taste Awards for marron glacé, glacé fruit, dark chocolate ginger and pate de fruit. So you're never more than a click away from some delicious delicacies.
The website is open 24/7. We will despatch your order within 48 hours.
We're always happy to offer advice. Call or email us. We pride ourselves on our excellent service.
This year, Walnut Tree is supporting Future Dreams Breast Cancer Charity with dried fruit and nuts for the care packages they distribute to patients in hospitals throughout London.