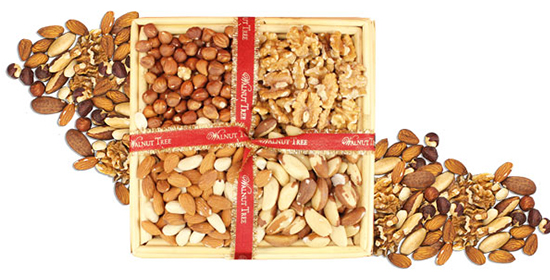 Nuts, Drupes and Legumes … who's who
Nuts, Drupes and Legumes … who's who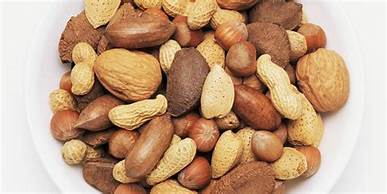 When is a nut not a nut? When it's a legume or drupe. Although we give almonds, brazils, hazelnuts, peanuts, walnuts etc. the collective name of nuts, if we scratch below the shell we will find that
Peanuts are classified as legumes, not nuts. Why? Because, the peanut has a flower that grows plant above the ground but the actually peanut grows below the ground in a calcium rich sandy soil.
Almonds and walnuts are classified as drupes, not true nuts. Why? Because, the seed is contained inside a central stone that is surrounded by a fleshy fruit with a thin skin. This classification also extends to types of fruit, such as peaches, plums, and cherries. These types of fruit have an outer fleshy part surrounds a shell (what we sometimes call a pit) with a seed inside.
Brazils  and hazelnuts are true nuts. Why? Because, they have a hard-shelled pod that contains both the fruit and seed of the plant. It also doesn't automatically open to release the seed.
But all types of nuts, drupes and legumes are a good source of healthy unsaturated fats, protein, fibre, a range of vitamins and minerals including folate, potassium and magnesium.
How much should you eat ?  after much research, most guidelines seem to say a handful.
And why? because ….
Rich in heart-healthy polyunsaturated fats and monounsaturated fats, which lower LDL or "bad" cholesterol.
A good source of phytosterols, compounds that help lower blood cholesterol.
Mounting evidence to suggest they reduce the risk of diabetes
And may even lengthen you l

 are consistently ranked in the top five best.
So if you're looking for a gift for your family or friends  that suitable for vegan, vegetarian, kosher, halal or gluten free diets, that's healthy and good for you and says you care … a Walnut Tree nut tray is the present for them.
Unsalted nuts are the healthiest option but sometimes, a small indulgent chocolate coated nut won't go amiss.
And for my son Joel ….. the scatologist
Do nuts make you poop? Yes, as they're loaded with heart-healthy fats, protein, and fibre, but it's the high magnesium content that has our intestines excited. "Magnesium neutralizes stomach acid and moves stools through the intestines,"
I hope you now feel like a subject matter expert in Nuts, Drupes and Legumes.
Read more about us, our story, the Great Taste Awards we've won and why we have a passion for superior tasting gifts and snacks.
Walnut Tree Gifts is one of the UK's leading packers of superior quality dried fruit, nuts and chocolate. We've been working in partnership with high-quality retailers since 1995. We are privileged to supply prestigious London stores, palaces, castles, stately homes, garden centres, delicatessens, farm shops, hamper companies, department stores and gift shops with corporate or Walnut Tree custom made gifts.
We're the only company with Great Taste Awards for marron glacé, glacé fruit, dark chocolate ginger and pate de fruit, so you're never more than a click away from some delicious delicacies. The website is open 24/7. We will despatch your order within 48 hours.
You'll be delighted to know that as you're buying directly from the source, you'll be getting excellent value for your money. And if you're not happy with your purchase, we'll refund or replace it.
This year, Walnut Tree is supporting Future Dreams Breast Cancer Charity with dried fruit and nuts for the care packages they distribute to patients in hospitals throughout London.