Dried Fruit and Natural Nuts – life cycle
You walk into the health store, delicatessen or supermarket and the shelves are packed with dried fruit and natural nuts. They are a constant food, rarely out of stock. For a food that is dependent on natures elements this is no mean feat.
Every fruit or nut has its own growth cycle, intricately connected with the seasons of its mother country. Each tiny raisin, walnut half or plum is grown, harvested, preserved and packaged before shipping and delivery. Of the 195 counties in the world, 29 have developed international export businesses.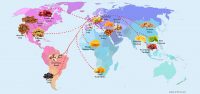 It's hardly surprising that the range of differing land composites and temperatures in the USA makes it the worlds number one for dried fruit and the second largest producer of nuts. However, Turkeys rich soil and perfect agricultural weather conditions brings it in at number two.
The Philippines is the number 1 producer of desiccated coconut, Egypt's top for peanuts and Canada leads for cranberry. Other countries not necessarily considered as producers are Georgia for Hazelnuts, Czech Republic for Walnuts and Uzbekistan for both dried fruit and nuts.
Fruit bearing trees and bushes produce one crop a year. Depending on the hemisphere the harvesting season varies.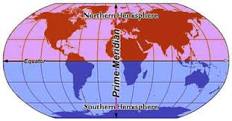 Apricots Northern hemisphere, Turkey USA and China in July and August. Southern hemisphere South Africa in December
Plums Northern Hemisphere USA and France in August and September. Southern hemisphere Chile and Argentina in February and March,
Cashes Northern hemisphere India and Vietnam in February, March and April. Southern hemisphere Chile in October, November and December.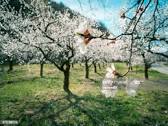 Once the trees and bushes start to bud they are tracked globally as closely as you would the development of a newborn baby. During the rainy season breath is held, nails are bitten during storms and hair pulled out during periods of excessive heat. Humans might control the process from harvest onward, but we need to get there first!!
In conclusion let's generate greater respect for succulent apricots, tangy cranberry or crisp brazil nut. They have journeyed worldwide sometimes through extreme weather conditions so we can toast them, toss them or sprinkle them.
Dried fruit and natural nuts are healthful foods because of their nutrient profiles. They provide dietary fibre, potassium (K) and a variety of health protective bioactive compounds. Nuts also are a source of protein and monounsaturated and polyunsaturated fatty acids.
Read more about us, our story, the Great Taste Awards we've won and why we have a passion for superior tasting gifts and snacks.
Walnut Tree Gifts is one of the UK's leading packers of superior quality dried fruit, nuts and chocolate. We've been working in partnership with high-quality retailers since 1995. We are privileged to supply prestigious London stores, palaces, castles, stately homes, garden centres, delicatessens, farm shops, hamper companies, department stores and gift shops with corporate or Walnut Tree custom made gifts.
We're the only company with Great Taste Awards for marron glacé, glacé fruit, dark chocolate ginger and pate de fruit, so you're never more than a click away from some delicious delicacies. The website is open 24/7. We will despatch your order within 48 hours.
All gifts purchased included complimentary gift bags and card. Choosing a meaningful gift can be difficult – we're always happy to offer advice. Call or email us. We pride ourselves on our excellent service.
You'll be delighted to know that as you're buying directly from the source, you'll be getting excellent value for your money. And if you're not happy with your purchase, we'll refund or replace it.
This year, Walnut Tree is supporting Future Dreams Breast Cancer Charity with dried fruit and nuts for the care packages they distribute to patients in hospitals throughout London.
For more information call 020 8236 0648 or email bev@walnut.gifts