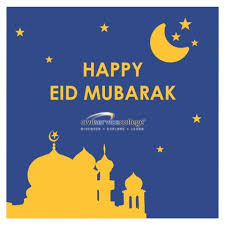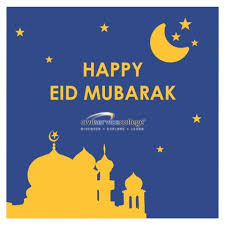 This year the Holy month of Ramadan has been drastically different. This week millions of Muslims would be travelling to Mecca in Saudi Arabia for the Hajj. With the corona virus restriction many worshippers have been forced to cancel their planned spiritual journey.
Mubaid al-Adha celebrations will be noticeably changed. However, Muslims around the world will still be taking the opportunity to wish each other the traditional Arabic 'Eid Mubarak' greeting even if it's over Zoom rather than in person. 
But what does the "Eid Mubarak" mean? The Arabic word "Mubarak" translates as "blessed," while "Eid" means feast, festival or celebration, so "Eid Mubarak" can literally mean "blessed celebration" or "blessed feast".
What is Eid al Adha, and why is it celebrated? Otherwise known as the "Festival of the Sacrifice", Eid al-Adha is considered the holier of the two Islamic Eid festivals, the other being Id Ul-Ghadir. It honours the story of the willingness of the prophet Ibrahim to sacrifice his son as an act of obedience to God's command. However, before Ibrahim carried out the heartbreaking request, God, known as Allah in Islam, produced a lamb for him to sacrifice instead.
In commemoration, an animal is sacrificed and divided into three parts in an act known as Qurbani. The meat is given to the poor, the owners of the animal and their relatives. This festival has such importance, that charity is given to families to help with the costs for the traditional Eid feast. Mosques and community groups will often arrange communal meals.
It is traditional to eat lamb often cooked in a tagine with apricots, chicken biryani with saffron and couscous sprinkled with cranberries and apricots. And to end the feast on a deliciously sweet note, cookies filled with nuts, dates or figs are shared, often gifts from family, friends and neighbours.
If your plans have been cancelled and you are not able to be with your family and friends let us send them a gift platter of succulent dried fruit or natural nuts.

The date for celebrating Eid al-Adha is the tenth day of Dhu al-Hijjah, the twelfth month of the Islamic Hijri calendar. As this is a lunar calendar, the date is calculated from the moon sighting in Saudi Arabia and this year is Friday 30 July
So to All Muslims, we at Walnut Tree wish you a blessed, safe and happy celebrations all over the world "Eid Mubarak".
'Walnut Tree Gifts is one of the UK's leading packers of superior quality dried fruit, nuts and chocolate. We've been working in partnership with high-quality retailers since 1995. We are privileged to supply prestigious London stores, palaces, castles, stately homes, garden centres, delicatessens, farm shops, hamper companies, department stores and gift shops with corporate or Walnut Tree custom made gifts. To find out more about our delicious marzipan fruit, glace fruit or spicy nut trays or for more information call Nick on 020 8236 0648 or email bev@walnut.gifts