Happy Easter Gifting
What is Easter?
Easter is the most important day in the Christian religion. It is a festival and
holiday commemorating the resurrection of Jesus from the dead on the third day after his burial.
Jesus was crucified on a Friday by the Romans in the town of Calvary. Three days later he miraculously came back to life. Now known as Easter Sunday.
Easter celebrates the defeat of death and the hope of salvation. Christian tradition hold that humanity's sins are paid for by the death of Jesus. His resurrection represents the anticipation that believers have in their spiritual resurrection.
When is Easter?
Easter celebrated on the Sunday following the paschal moon. A paschal moon is the first full moon that occurs after the equinox on or after the 21st of March. In ancient farming communities, this date signified the beginning of spring in the northern hemisphere.
What do Christians do on Easter?
Christians worldwide celebrate Easter with special church services, music, candlelight, flowers and the ringing of church bells. It is a time when families get together to share a meal. and give Easter gifts. In addition to Easter's religious significance, it has a commercial side. Many countries have instituted a national holiday from the Friday to the Sunday .
Why we celebrate Easter with eggs?
The egg, for many religions, is a symbol of life. From a Christian perspective,  Eggs represent Jesus's emergence from the tomb and his resurrection. Eggs also represent spring, a time of new life and rebirth; eggs were an ancient fertility symbol.
Is the Easter Bunny as pagan traditions?
Some think that an Easter bunny's image is leftover from the pagan festival of Eostre . A great northern goddess whose symbol was the rabbit or hare, an animal high in reproduction.
What do you eat over Easter?
Eggs served for breakfast as symbols of life and fertility.
On Good Friday, people traditionally eat hot cross buns. A richly spiced tea cake  made with milk, butter and dried fruits. The cross shape on the top of the bun signifies Jesus's crucifixion. The spices represent the herbs used to embalm his body.  Many people eat fish for their main meal.
Roast lamb or ham are traditionally served for lunch on Easter Sunday. And dessert is often a slice of Simnel cake. Since medieval times, Simmel cake has been eaten   as a decadent, sweet treat and a symbolic ritual. The fruit cake is topped with eleven marzipan balls to represent the eleven apostles of Christ, minus Judas.
Best Easter gift ideas. Happy Easter Gifting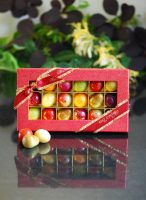 Walnut Tree has a wide choice of bulk dried fruits put in your homemade Simnel cake. A great present would be a large box of chocolate-covered nuts for the family to share. Or if you want some traditional marzipan, our marzipan fruits are  beautiful to look at and delicious to eat. Walnut Tree has the perfect Easter gifts for you, your family and friends check out our selection of Easter gifts at www.walnut.gifts