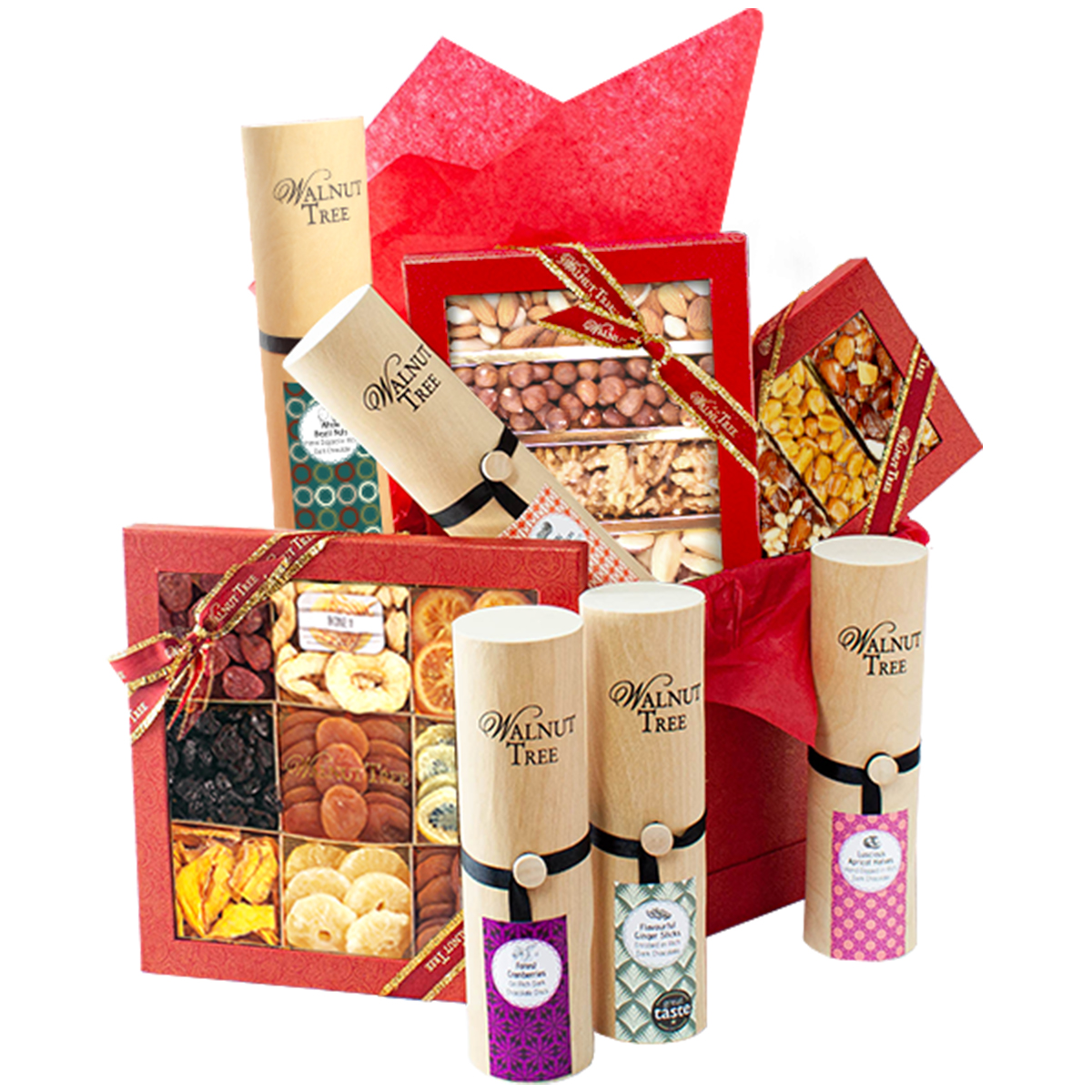 Hampers. What to put in …..
---
Hampers refer to a wicker basket like containers that were used by farmers and store owners to carry food. Over time they have been associated with laundry, fruit and vegetables and small livestock.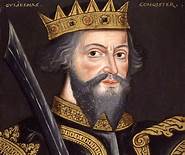 William the Conqueror brought over from France the idea of the Hamper during his reign. During, the 11th century, hampers containing essential foods and household items were distributed amongst the poor needy
Over the centuries wicker hamper have been adapted and used by travellers In the 13th century they were used as an early type of suitcase on the first stagecoaches. These "stagecoaches" travelled a maximum of 10 to 15 miles a day. The Hamper filled with the necessary living necessities for long and arduous journeys was a welcome accessory.
In the 16th century, a better network of roads reduced journey times. York to London weather dependent took up to six days. The contents of the Hamper was altered and often contained speciality regional foods.
The expansion of the railroad system in the late 19th century dramatically changed travel. Hamper contents were again modified to suit the traveller. And saw the inclusion of a cushion or blanket nestling alongside essential foods and gifts.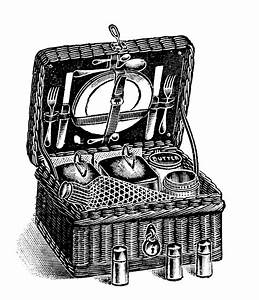 The idea of giving gift food in a basket captured the imagination of the Victorians and the Hamper as we know it today was born.
The motor car was the final instrument in the upgrading of the wicker Hamper. The inclusion of crockery and cutlery, tea kettles and wool blankets for a picnic in the country put to bed the notion that the Hamper was a poor man's case.
The gift hamper became an opulent reciprocal of delicacies.
And whilst this is what they are now we must acknowledge the filled box given to staff and servants on the day after Christmas—nowadays known as Boxing day. The contents of that box or hamper mirrored the original contents and alms from the 11th century: food, clothing, household apparel.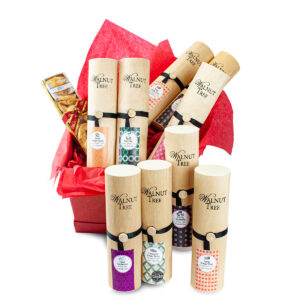 And nowadays, the Hamper has been reworked as a traditional gift for all festivals and occasions. Christmas, obviously being the major festival. We at Walnut tree have made hampers for Diwali, Rosh Hashanah, and Eid. Corporate hampers with filled with dried fruits, nuts and chocolates tailored for those vegans, vegetarians, kosher, halal or gluten-free diets.
Hampers are a perfect present to give, so check out our hamper boxes, choose the finest edible delights for your family, friends and colleagues. And let's create a gift that is unique, thoughtful and heart-warming.
TOP TEN THINGS TO FILL YOUR HAMPERS WITH ….
Award winning pate de fruit
Award winning glace apricots packed in an assorted gift box
Marzipan fruit, finished by hand
Walnut coated in milk chocolate and dusted with cocoa powder
Luxury selection of choice nuts either natural or sweet'n'spicy
Apricots hand dipped in dark chocolate.
Read more about us, our story, the Great Taste Awards we've won and why we have a passion for superior tasting gifts and snacks.
Walnut Tree Gifts is one of the UK's leading packers of superior quality dried fruit, nuts and chocolate. We've been working in partnership with high-quality retailers since 1995. We are privileged to supply prestigious London stores, palaces, castles, stately homes, garden centres, delicatessens, farm shops, hamper companies, department stores and gift shops with corporate or Walnut Tree custom made gifts.
We're the only company with Great Taste Awards for marron glacé, glacé fruit, dark chocolate ginger and pate de fruit, so you're never more than a click away from some delicious delicacies. The website is open 24/7. We will despatch your order within 48 hours.
All gifts purchased included complimentary gift bags and card. Choosing a meaningful gift can be difficult – we're always happy to offer advice. Call or email us. We pride ourselves on our excellent service.
You'll be delighted to know that as you're buying directly from the source, you'll be getting excellent value for your money. And if you're not happy with your purchase, we'll refund or replace it.
This year, Walnut Tree is supporting Future Dreams Breast Cancer Charity with dried fruit and nuts for the care packages they distribute to patients in hospitals throughout London.