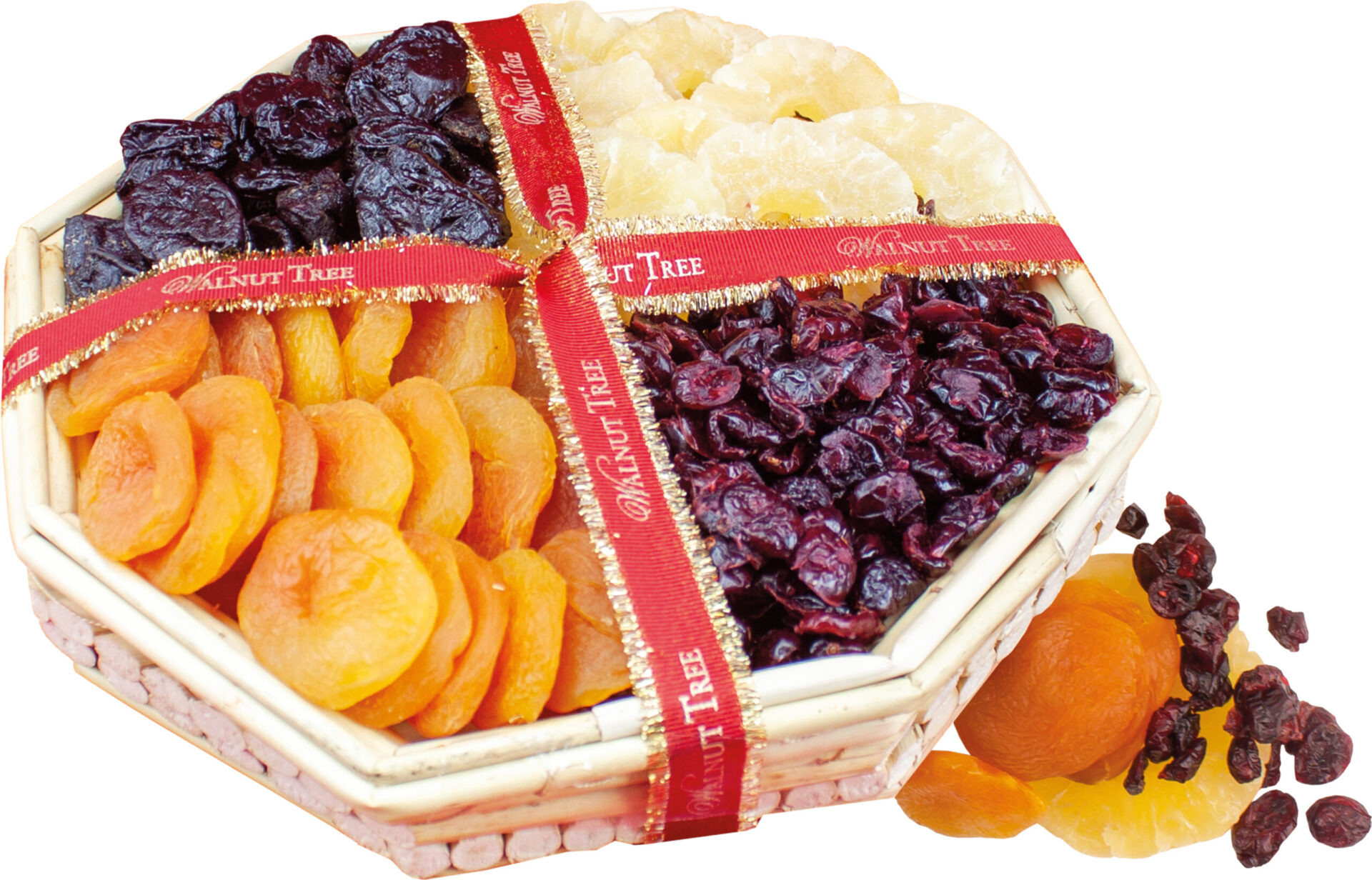 Friendship through Fruit and Nut
Friendship through Fruit and Nut, Nuts, dried fruit and chocolates are part and parcel of my life. Even though my liberty is restricted and the number of people that I'm currently interacting with is negligible, this week was no exception.
I'm at work, isolated in my own bubble and my phone started to fire off messages. With trepidation I glanced at the screen and a smile spread over my face. My best friend was forwarding me a trail of Face Book posts about Walnut Tree. They are so delightful and endearing that I have to share them with you.
To set the scene people are posting on Facebook.
BL has two large Walnut Tree dried fruit gift trays and didn't know what to do with them.
SM Posts "nothing nicer than compote !" and this was followed by HG who kindly supplied the following instructions … cook in a little water, with cinnamon sticks and cloves. Serve with cream, custard or ice cream.
Not wanting to be outdone CM quickly fired back  "use the apricots in a chicken dish, the cranberries in a salad, dip the pineapple in chocolate and eat the prunes for medicinal purposes !"
With discretion HN Posted the recipe for a tangine. Which was immediately upgraded by GS with a recipe for chicken, potato, prunes, cranberry and pomegranate.
BR humbly followed with "Goes beautifully with shoulder of lamb or a good cut of beef. Slow cook or slow roast in a pot with onions, dried fruit, aromatic spices like cumin, cinnamon and ground coriander.
The posts organically moved from savoury to sweet with FK recommending, chopping up the large pieces of dried fruit and mixing with the cranberries to use as a strudel filling.
By now I think everyone was salivating as the suggestion of strudel fire up the imagination and recipes for Fruit Cakes, Bread with Fruit, Pineapple Cake, Fruit Muffins, Fruit Jam, Florentines, Scones, Oatmeal biscuits with dried fruit were posted with quick succession.
NL added a little diversity with homemade granola, telling us to chop the fruit and mix with nuts, honey, little sea salt, little butter. Plus anything else you fancy. Pat down firmly onto grease-proof paper in an oven proof dish and bake for a few minutes until crisp. Cool down and cut up.  ZE kindly contributed, chop up and make your own fruit muesli and if there's anything left; blend them in a fruit processor with grated apple, lemon juice, cinnamon, all spice and use to make "mince pies" or a fruit tart – topped with some crumble. Friendship through Fruit and Nut
So thank you for bring me joy on the 114 day since lock-down.  And in recognition I attach my contribution.
100 THINGS TO DO WITH DRIED FRUIT
Read more about us, our story, the Great Taste Awards we've won and why we have a passion for superior tasting gifts and snacks.
Walnut Tree Gifts is one of the UK's leading packers of superior quality dried fruit, nuts and chocolate. We've been working in partnership with high-quality retailers since 1995. We are privileged to supply prestigious London stores, palaces, castles, stately homes, garden centres, delicatessens, farm shops, hamper companies, department stores and gift shops with corporate or Walnut Tree custom made gifts.
We're the only company with Great Taste Awards for marron glacé, glacé fruit, dark chocolate ginger and pate de fruit, so you're never more than a click away from some delicious delicacies. The website is open 24/7. We will despatch your order within 48 hours.
All gifts purchased included complimentary gift bags and card. Choosing a meaningful gift can be difficult – we're always happy to offer advice. Call or email us. We pride ourselves on our excellent service.
You'll be delighted to know that as you're buying directly from the source, you'll be getting excellent value for your money. And if you're not happy with your purchase, we'll refund or replace it.
This year, Walnut Tree is supporting Future Dreams Breast Cancer Charity with dried fruit and nuts for the care packages they distribute to patients in hospitals throughout London.