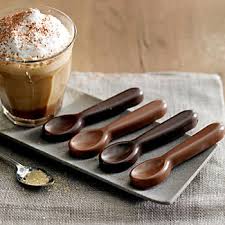 Chocolate Teapots and Chocolate Spoons
Chocolate Spoons
If we look at the following words, they seem positive and happy. 
Useful, helpful, practical, functional, 
Chocolate, sweet, bonbon
Teapot, kettle, pot
One could be seduced into thinking that afternoon tea with chocolate biscuits was on offer. Served on a beautifully mowed lawn where the stripes had been drawn with a ruler. But if we mix them up and add a few conjunctions and a preposition, then the illusion falls away.
"As useful as a chocolate teapot" an idiom often used for its humorous effect to describe something as useless.
We at Walnut Tree don't do chocolate teapots, we do chocolate spoons. And we've given into our humorist side and sourced for your pleasure milk, dark or white chocolate spoon.
They're really cute. A talking point, something different to give as a gift or for your use to cheer ourselves up, especially during these challenging times.
The instructions are simple. Take the spoon of our choice and gently stir any hot drink. Watch how the faces of your friends and families, old and young, light up with amazement as they realise that if quick they can eat the spoon or they can leave it to melt and mingle with their drink. We think we have redefined the meaning of "spooning". 
We guarantee warmth and love while you, your guests and any recipient "swoon over the spoon" and get a moment of "bliss in a bite".
Or for those of us who like a practical joke, just say that the spoon is not really a spoon and watch the puzzled expression as it slowly disappears into the mug … share the moment of 'melt and giggle'. 
And that's not all. If you're looking for an easy dessert, dollop some vanilla ice cream on a plate, add some soft fruit and garnish with a chocolate spoon.
So forget the teapot and reach for
Chocolate spoons – dark chocolate 
Read more about us, our story, the Great Taste Awards we've won and why we have a passion for superior tasting gifts and snacks.
Walnut Tree Gifts is one of the UK's leading packers of superior quality dried fruit, nuts and chocolate. We are privileged to supply prestigious London stores, palaces, castles, stately homes, garden centres, delicatessens, farm shops, hamper companies, department stores and gift shops with corporate or Walnut Tree custom made gifts.
We're the only company with Great Taste Awards for marron glacé, glacé fruit, dark chocolate ginger and pate de fruit, so you're never more than a click away from some delicious delicacies. The website is open 24/7. We will despatch your order within 48 hours.
All gifts purchased included complimentary gift bags and card. Choosing a meaningful gift can be difficult – we're always happy to offer advice. Call or email us. We pride ourselves on our excellent service.
You'll be delighted to know that as you're buying directly from the source, you'll be getting excellent value for your money. And if you're not happy with your purchase, we'll refund or replace it.
This year, Walnut Tree is supporting Future Dreams Breast Cancer Charity with dried fruit and nuts for the care packages they distribute to patients in hospitals throughout London.