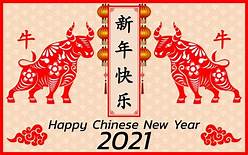 Chinese New Year
The Chinese New Year, also known as the Spring Festival. Firstly it is the most important and widely celebrated festival in China. Secondly, the celebrations are shared globally as its cultural message of joy and harmony, sharing and blessing are universal values. 
The celebrations usually last for a month with seven days being a national public holiday. Therefore, four hundred million people will leave cities and return to their rural homes. It is the most significant human migration in the world.
The Festivals date is based on the lunar calendar and begins at sunset on the second new moon after the winter solstice. This year it falls on the 12th of February. 
In addition, historians date the festive back over 3000 years. The origins being the ancient worship of heaven and earth. With the yearly miracle of spring welcoming a new start, bringing people hope and renewing the life cycle. Especially welcome after long, dark winters.
Time has seen the celebrations becoming more entertainment-oriented. The Lanterns' Festival a celebration with singing, dancing, and lantern shows marking its conclusion.
Chinese New Year – Animal Signs
Mysterious forces spiritually connect the New Years with one of the twelve
animals in the Chinese Zodiac. 2021 will be the year of the Ox, an animal that represents immense patience and a desire to make progress and symbolize diligence and determination.
Traditions of Chinese New Year
Moreover, celebrations are observed with traditions and rituals, from the food preparation, to what you wear, how you clean your house.
Residents put new posters of "door gods" on their front doors. Red lanterns and flags decorate the streets, and it's usual to wear something red to ward off evil spirits. 
Chinese New Year Greetings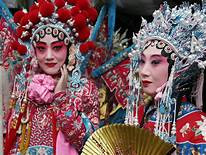 The standard greetings are "Xin Nian Kuai Le", which means "Happy New Year". Or if you speak Cantonese "Kung Hei Fat Choi" which means greetings become rich or in Mandarin Gong Xi Facia or Gong Sshee Faa-Tseye.    
Gifts for the New Year.
There is tradition to give money in red envelopes, known as Hong Bao. In addition, if you want to send a red boxed gift, Walnut Tree has a wide range of beautifully packed gift foods. Or embrace modern technology and send a WeChat message.  
Decorations for the Festivities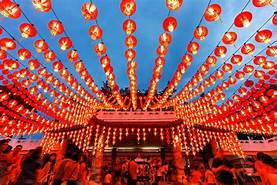 Festoons of red lanterns, flags, bunting will decorate streets, building and houses. Why red? It's considered a lucky colour. The local Government will arrange in advance for images of prosperity to be outside banks and official buildings. The family will traditionally decorate their home on New Year eve.
So, besides general decorations, many cities boast of great performances of dragon dances, lion dances and imperial concerts like an emperor's wedding in their municipal parks.
Family Time
The Chinese New Year is a time for families to come together. Wherever you live, your grandparents will expect that you'll return home for what is the most essential annual multi-generational "reunion dinner".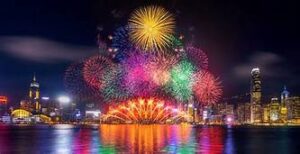 After dinner, families will watch one of China's most popular show, the Spring Festival Gala. Above all, it is the most-watched national TV broadcast in the world, attracting more than 1.2 billion people. After that many will wait until midnight when billions of fireworks light up the night sky, scaring away evil and bringing good luck.
Lucky Foods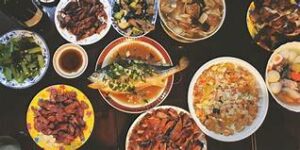 Moreover, foods is a big part of the festivities with lucky foods such as carp or catfish cooked by families because they say it will increase your prosperity, Chinese dumplings for great wealth and glutinous rice cakes for a better job. If your employer invites you to join a gathering, don't offer to sweep up as you might "sweep all your luck away".
Read more about us. 
The website is open 24/7. We will despatch your order within 48 hours.
We're always happy to offer advice. Call or email us. We pride ourselves on our excellent service.
 This year, Walnut Tree supports Future Dreams Breast Cancer Charity with dried fruit and nuts for the care packages they distribute to patients in hospitals throughout London.