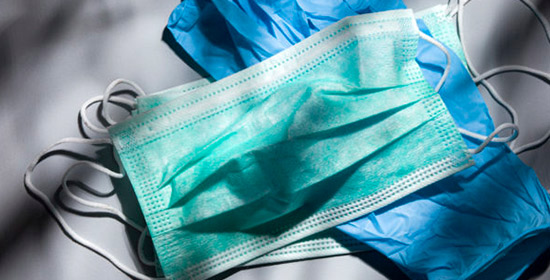 We've been back at work now for nearly three weeks and what seemed like an enormous challenge of physically get into the factory, staying in ones work area, changing clothes and wearing extra protection is the new norm. We have a new rhythm to our working day and now the pattern has been established, the fear has dissipated and it's ok.
On my way to work, I've started to notice hints of blue in the kerbside waste, flashes of blue in the central reservations and streaks of blue hanging out rubbish bins. I asked myself, what is this unnatural blue, it's certainly not delphiniums or agapanthus or ceanothus.
No, it's plastic, gloves or face shields, shoe covers and arm protectors, worn once and clumsily discarded. What has happened to our recycling morals. Sure some of us have remembered to dispose of them with consideration but we are changing gloves and masks with such frequency it's hardly surprising that their are creeping out and decorating our landscapes.
So here's a shout out to Disposable Gloves Recycling London — check them out on facebook . They offer a great service that we at Walnut Tree use for our gloves. And in regards to our face masks, here's another shout out to my lovely cousin and friend Brenda who kindly made easy to wash cotton masks from an old bed sheet. When I distributed them, I was remembered how my mother balanced number of school shirts needed, against how much washing was to be done … her policy was …one on the body, one in the wash and one spare. So everyone has three masks
These are only small things but if everyone tried to recycle/upcycle/reuse something it will make a difference to the world for us and our children and our children's children.