Best gifts for Holi
What is Holi
Below are the best gifts for Holi. However in the meantime let's look at the  ancient Hindu Festival with its cultural rituals. Also known as the spring festival, the festival of colour or the celebration of love. Celebrating the triumph of good over evil and linking the spring with the beginning of a good harvest season. It is a time to meet others, play and laugh, forgive and forget and repair broken relationships. 
This religious festival originated in India. Over the years, it's celebrations of love,  colour and enjoyment have caught the imagination of many non-Hindu communities across the world, such as Jains and Newar Buddhists.
When do you celebrate Holi? 
The festival starts on the evening of the full moon in the Hindu month of Phalguna, which often falls in March. The festival lasts for a night and a day. The evening known at
, the burning of the demon and the day Rangwali Holi or Dhuleti Dhundi. 
Holi celebrations begin when?
When people gather around bonfires, perform religious rituals and say prayers.  Praying that internal evil thoughts or actions will be wiped out. Similar to the way Holika, the sister of the demon king Hiranyakashipu was destroyed by fire. Prayers are also said to rid oneself of past errors, to pay or forgive debts. After that, the burning flames become a place for people to dance and sing around. 
The following day is a day of colour and water. People smear themselves and others with bright coloured powders traditionally made from ground turmeric, neem, dhak and kumkum. 
Musicians often with drums will parade down the streets and through parks and outside temples encouraging the crowds to drench each other in water by throwing coloured water-filled balloons or spraying each other with coloured water. Everybody will end up covered in coloured powder and water, that's why Holi is given the name "Festival of Colour".
The other great thing about the celebrations is that anyone and everyone is fair game. Friends or strangers, rich or poor, men, women, children, teachers, employees. Early 16th to mid-18th century, in Mughal India, Holi was celebrated with such cheerfulness. People of all castes would throw colour on the Emperor.
What do you eat and drink on Holi?
When the days' festivities come to an end, many people will dress up and visit family and friends to share a meal and give them the best gifts for Holi. The host and hostess take pleasure in serving edible delicacies include guiiya, a folded biscuit filled with dried fruit, mathri, a savoury deep-fried snack and malpua, a soft deep-fried pancake served warm and topped with almonds or pistachio nuts. It is customary to drink the very intoxicating bhang made from cannabis. 
Best gifts for Holi.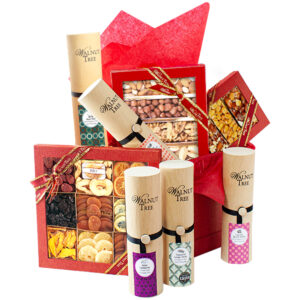 It should have a positive vibe that expresses love and respect to make the recipient feel special. The best gifts for Holi : 
New clothes, unique dresses, like cotton sarees and kurtas. Traditionally white. 

Dried fruits from Walnut Tree, in designer boxes and baskets and tied with gift ribbons.

Holi colour packs of powders, water sprays and balloons.

Hampers boxes with dried fruit, chocolates and sweetmeats.

Wall hanging to adorn your loved one's home of Lord Ganesha or Lord Krishna.
Can I celebrate Holi?
Most certainly, yes. Entrepreneurs have commercially market it. You can buy a
ticket to attend the Festival of Music, dance and colour. It's a festival of forgiveness and new starts, which ritually aim to create and generate harmony in society. So let's give the best gifts for Holi whilst raising a cup of bhang.  Let the celebrations begin.