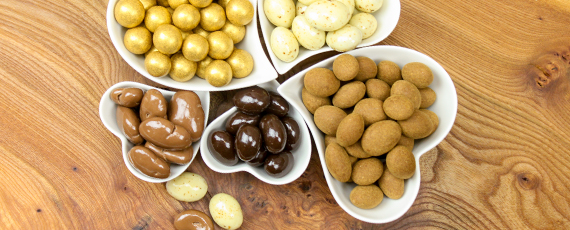 Best Chocolate Covered Nuts.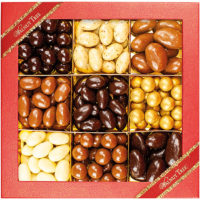 Best Chocolate Covered Nuts.
Customers often asked what the best chocolate covered nuts are. Please enjoy the short review of each type that we hand-pack in presentation gift boxes.
The most popular chocolate-covered nut is the brazil nut. I'm not sure if 
it's the thick covering of milk or dark chocolate that tingle the taste buds, 

the luxury that somebody else has cracked the nut and managed to keep it whole. 

each enrobed brazil nut is a meal, so a couple makes us a full and satisfied

packed with selenium, zinc and calcium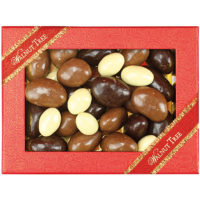 The most symbolic nut is the almond. Maybe because
They are the best whole food source of vitamin E, which is associated with helping fertility.

Covered in milk, white and dark chocolate, they transform a sweet nut into naughtier and excellent healthier snacking choice.

The Hebrew word for almond is shakeid which means watchful. So symbolically the almond represents an omniscient presence watching over the people.

A present of healthy nutrients and good intentions enrobed in chocolate.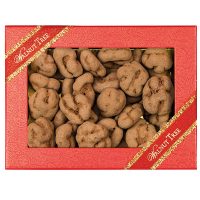 My favourite chocolate-covered nut must be the walnut. Why
a walnut half encased in a thick layer of the milk chocolate that crunches when you bite down

the dusted cocoa powder is a dry introduction to the soft chocolate and the moist walnut

irregular in shape makes for exciting choice: a big munch or a little nibble.

walnuts are a powerhouse of nutrients, vitamins, fibres.
Most unusual chocolate covered nut. Must be the pecan
although long established in the USA, since the 1700s, it's a relative newcomer to European palettes

our milk chocolate covered pecans have a soft outer finish and are perfect with a hot drink

ideal gift for those who want to try something new.

hand-packed in our nine sectioned assorted chocolate covered nuts gift box
Most talked about chocolate covered nuts. They must be the
Our roasted almonds are coated in milk chocolate and lightly dusted in cinnamon.

Cinnamon is a love or hate spice that inexplicably evokes passion and opinions. 

The oval shape of this treat fits perfectly into the mouth and enabling the warm cinnamon-infused chocolate .to release its complex flavours slowly.

Almonds are abundant in vitamins, fibres, proteins. With some creativity, they could be called the ultimate healthy treat.
And although not technically a nut. Our marrons glace are a delicious treat for those who are fond of these loving cooked chestnuts.
Read more about us, our story, the Great Taste Awards we've won and why we have a passion for superior tasting gifts and snacks.
Walnut Tree Gifts is one of the UK's leading packers of superior quality dried fruit, nuts and chocolate. We've been working in partnership with high-quality retailers since 1995. We are privileged to supply prestigious London stores, palaces, castles, stately homes, garden centres, delicatessens, farm shops, hamper companies, department stores and gift shops with corporate or Walnut Tree custom made gifts.
We're the only company with Great Taste Awards for marron glacé, glacé fruit, dark chocolate ginger and pate de fruit, so you're never more than a click away from some delicious delicacies. The website is open 24/7. We will despatch your order within 48 hours.
All gifts purchased included complimentary gift bags and card. Choosing a meaningful gift can be difficult – we're always happy to offer advice. Call or email us. We pride ourselves on our excellent service.
You'll be delighted to know that as you're buying directly from the source, you'll be getting excellent value for your money. And if you're not happy with your purchase, we'll refund or replace it.
This year, Walnut Tree is supporting Future Dreams Breast Cancer Charity with dried fruit and nuts for the care packages they distribute to patients in hospitals throughout London.