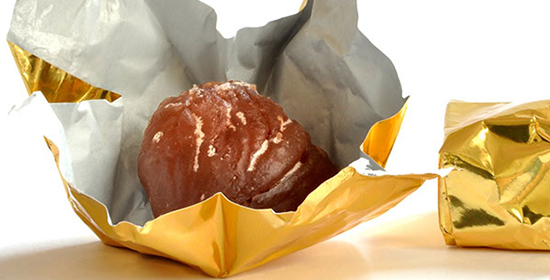 Awards Winning Succulent Marrons Glace
Award Winning Marrons Glace. Only ten varieties of forest chestnuts are suitable to be candied in syrup and transformed into prime marron glacé. Somewhere along the leisurely 240 hours production process, infused into the mixture, a hint of vanilla. It lingers in the mouth as a gentle reminder of the glorious Walnut Tree feast you've just eaten. We have sourced award winning marrons glace that are vacuum packed to retain freshness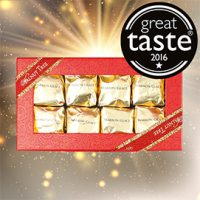 History of Marrons Glace They appeared around the 16th century shortly after the crusaders returned to Europe with sugar, a natural preservative. Over the centuries the production process has remained similar. However, ours are vacuum seal to retain their freshness. 
In the 17th century, a French chef published a best-selling book with the first record of the recipe for marrons glacés. 
Sometime during the 19th century. A young engineer decided to help to revitalise the economy of his town. He set up a marron glace manufacturing facility in Lyon, France.  Spain is also world renown for its production of marrons glace.
Often eaten on their own as a sweetmeat, they are also a staple ingredient for other desserts, such as the Mont Blanc (puréed with cream), ice-creams, cakes, sweet sauce or garnish for other desserts.

MARRONS GLACEMake it At Home:
They are amazingly easy to make, though it does take some time. But in these uncertain times, we are all spending more time in our homes.
All you need is water, 500g of caster sugar, one vanilla stick and 1kg of large marrons. 
Method
Boil the chestnuts for ten minutes and peel while still hot.

In a separate pan, bring to a boil two-and-a-half cups of water, sugar and vanilla, stirring constantly.

Continue cooking the sugar for five minutes and then add the prepared chestnuts and stir whilst returning the whole mixture to a boil.

After ten minutes, pour the candied chestnuts into a large container and soak in the syrup for half a day.

Next, place the chestnuts and syrup into a clean pan and boil for two minutes.

Cool for 24 hours and repeat the process of boiling for two minutes and soaking for 18 hours three or four times until the chestnuts have absorbed the sugar syrup.

Once there is no more liquid left, bake the chestnuts for an hour until firm and dry.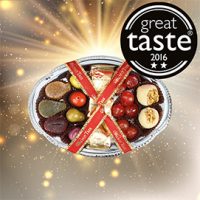 But for those of us who like the continental touch. Walnut Tree is proud to be able to offer you award-winning Marrons Glace. We hand pack them in our tailor-made boxes and lovingly tie them with customised ribbon. And if you or your friends and family enjoy those traditional confectionery luxuries, we've created a must-have box filled with marron glace, marzipan and pate de fruit. 
Marron glace is suitable for vegan, vegetarian, halal and gluten-free diets.
Read more about us, our story, the Great Taste Awards we've won and why we have a passion for superior tasting gifts and snacks.
Walnut Tree Gifts is one of the UK's leading packers of superior quality dried fruit, nuts and chocolate. We've been working in partnership with high-quality retailers since 1995. We are privileged to supply prestigious London stores, palaces, castles, stately homes, garden centres, delicatessens, farm shops, hamper companies, department stores and gift shops with corporate or Walnut Tree custom made gifts.
We're the only company with Great Taste Awards for marron glacé, glacé fruit, dark chocolate ginger and pate de fruit, so you're never more than a click away from some delicious delicacies. The website is open 24/7. We will despatch your order within 48 hours.
All gifts purchased included complimentary gift bags and card. Choosing a meaningful gift can be difficult – we're always happy to offer advice. Call or email us. We pride ourselves on our excellent service.
You'll be delighted to know that as you're buying directly from the source, you'll be getting excellent value for your money. And if you're not happy with your purchase, we'll refund or replace it.
This year, Walnut Tree is supporting Future Dreams Breast Cancer Charity with dried fruit and nuts for the care packages they distribute to patients in hospitals throughout London.
Four sectioned marron glace, marzipan and pate de fruit gift box
Luxury nine sectioned cornucopia
Silver tray filled with marron glace. glace fruit, marzipan and pate de fruit