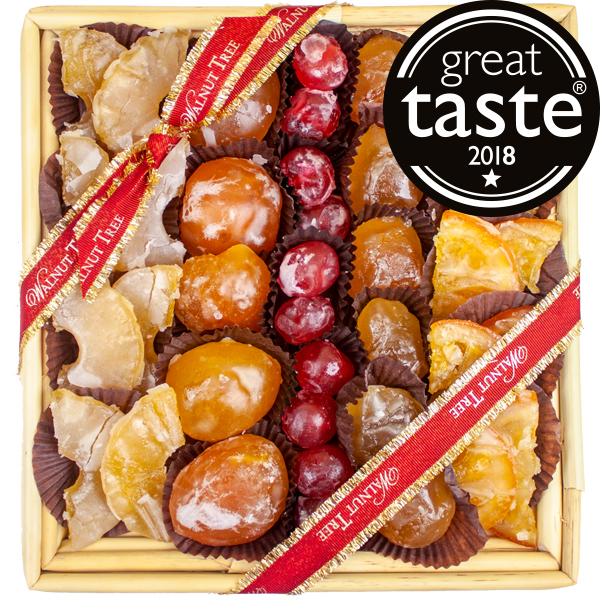 Award Winning Glace Fruit
We searched for many years in pursuit of award winning glace fruit, travelling to trade exhibitions in Europe and Asia. Our brief was to find a wide variety of good quality fruits. A range of contrasting flavours and textures. And finally, a finished gift box that needed to be visually appealing. We think were successful. This was confirmed when in 2018 the glace apricots won a great taste award.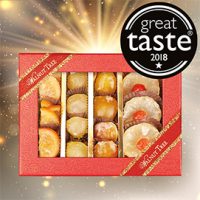 Nicholas selected the best product from each producer, imported them into the UK for us to hand-packed into our bespoke packaging. Once filled each box is tightly sealed, lovingly tied with signature ribbon by dedicated Walnut Tree staff. So, if you know some who has a fondness for sweet confectionery, award winning Glace Fruit is most probably in their top three sweetmeats. Perfect to accompany a hot drink at the end of a meal or a little midday pick-me-up.
Brief History, it's all about the sugar.
Luxury Glace Fruits People have been using sugar or honey as a natural preservative since the ancient cultures of China and Mesopotamia. During the 11th century, sugar was only affordable to Kings, Sovereigns and Emperors. As the cost of sugar fell during the 14th century, the preserving of natural fruit into glacé fruit or pate de fruit increased. However, they were was still a luxury sweetmeat favoured by the nobility and gentry. It took a further 400 years to the end of the 18th century for sugar to be affordable to the masses.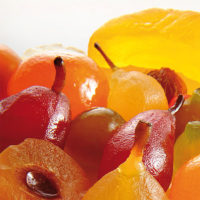 If you've time on your hands why not make your own
· Cut your chosen fruit into small-sized pieces.
· Boil the fruit or peel in a high sugar/water solution until the fruit is transparent or the peel transparent.
· Stir and heat until it reaches 115 celsius.
· For every half cup of sugar, one to one-and-a-half cups of water is added.
· Store in an air-tight container.
The sugar absorbs the moisture from within the fruit and eventually preserves it. It is allowing the fruit to retain its quality for at least a year. This process can take from several days up to several months, depending on the size and type of fruit. Glace fruit is sometimes called crystallised fruit or candied. The difference is subtle. I think it is about the length of time the fruits are submerged and the number of coats they acquire of sugar.
Transform plain cakes into gastronomical treats, desserts, and sweetmeats by adding a handful of award winning glace fruits. We in the United Kingdom have a tradition to add glace fruits to our Christmas cakes and puddings, the Italians and Spaniards add them to their panettone bread and the French to their nougat.

Although glace fruit is approximately 80% sugar, it does contain small amounts of fibre and manganese. So maybe you could persuade yourself that they are beneficial for you!
Read more about us, our story, the Great Taste Awards we've won and why we have a passion for superior tasting gifts and snacks.
Walnut Tree Gifts is one of the UK's leading packers of superior quality dried fruit, nuts and chocolate. We've been working in partnership with high-quality retailers since 1995. We are privileged to supply prestigious London stores, palaces, castles, stately homes, garden centres, delicatessens, farm shops, hamper companies, department stores and gift shops with corporate or Walnut Tree custom made gifts.
We're the only company with Great Taste Awards for marron glacé, glacé fruit, dark chocolate ginger and pate de fruit, so you're never more than a click away from some delicious delicacies. The website is open 24/7. We will despatch your order within 48 hours.
All gifts purchased included complimentary gift bags and card. Choosing a meaningful gift can be difficult – we're always happy to offer advice. We pride ourselves on our excellent service.
You'll be delighted to know that as you're buying directly from the source, you'll be getting excellent value for your money. And if you're not happy with your purchase, we'll refund or replace it.
This year, Walnut Tree is supporting Future Dreams Breast Cancer Charity with dried fruit and nuts for the care packages they distribute to patients in hospitals throughout London.
Due to seasonal changes, contents might vary.