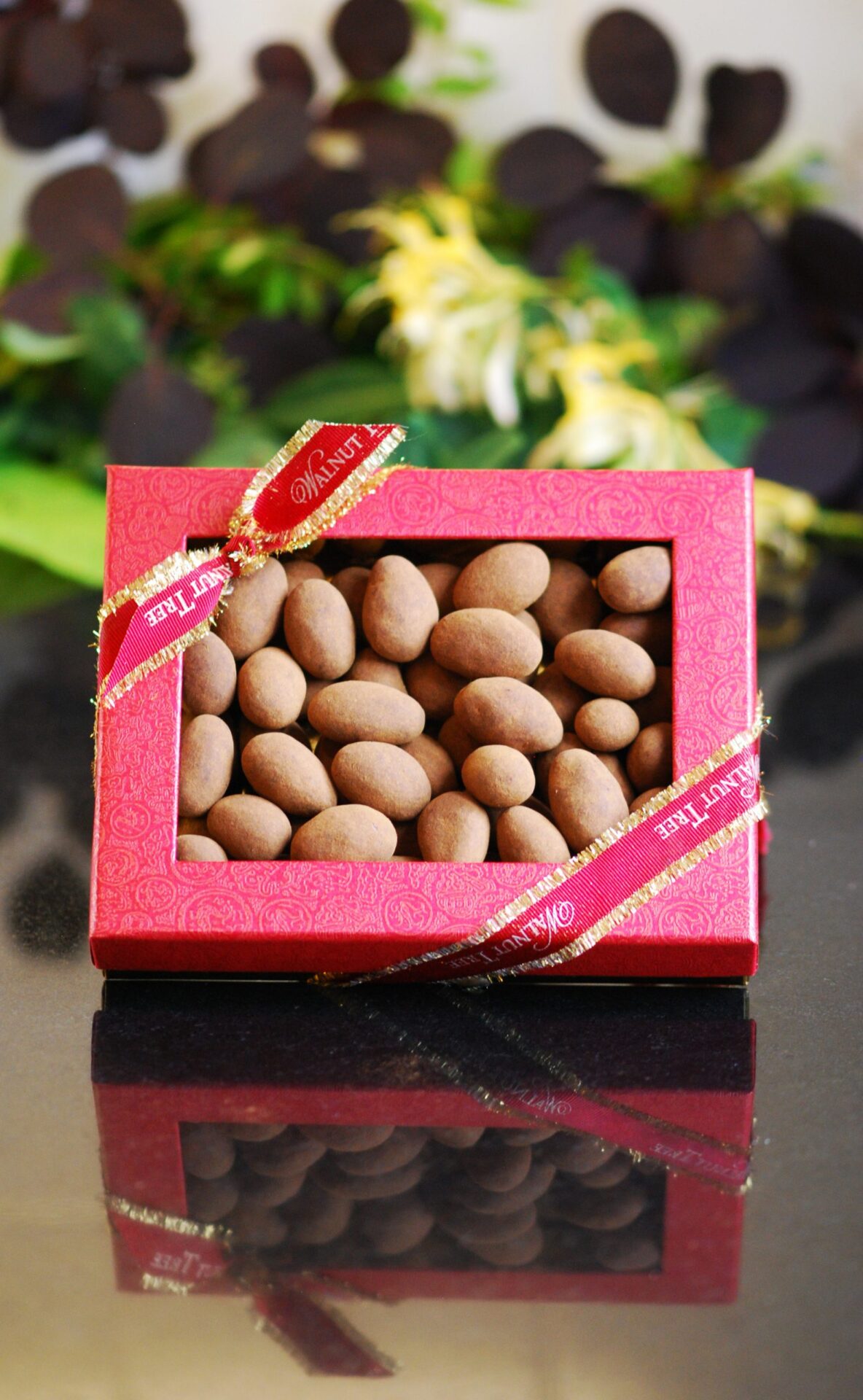 Cinnamon dusted almonds- delicious
Cinnamon dusted almonds. What could be better than a Walnut Tree gift box containing some favourite ingredients, cinnamon, chocolate, and almonds?
Let's look at these three-tree bi-products. And how, when mixed, they create something that is magically edible.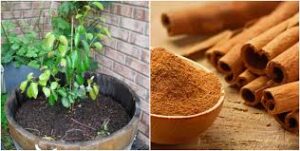 Cinnamon is a spice created from the inner bark of the Cinnamomum tree. Strips of the inner bark are dried until they curl into rolls known as cinnamon sticks or quills. These can then be ground into powder or made into an extract. It is one of the most used spices in the world. 
Cinnamon, linked in various studies to improvement in cholesterol and blood sugar control, and it seems to have antibacterial and anti-inflammatory effects.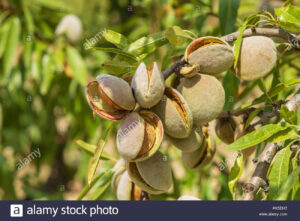 Almonds come from the Prunus dolicis tree. Although we call the almond a nut, for those with a pedantic nature it is a drupe. It is categorised like this because we eat the sweet seed inside the outer shell. Other commonly mislabelled drupes are walnuts and brazil nuts.  
Almonds are rich in nutrients that can help protect the heart, including unsaturated fatty acids, phytosterols, magnesium, vitamin E, copper and manganese.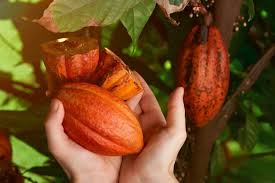 Chocolate comes from the cacao tree which was originally native to Central and South America but is now commercially grown throughout the tropics. About 70% of the world's cacao is grown in Africa.
A cacao tree can produce around two thousand pods per year. The tree trunks are very pliable, so are manually harvested twice a year. To protect the beans inside the pods, they cracked open by hand and stored in wooden boxes. Covered, often with banana leaves, they are left to ferment.
The fermentation alters the natural bitter flavour to something that we would recognise as a chocolatey. The taste continues to develop while the beans are placed in the sun to dry.
There is evidence suggesting that eating chocolate may help prevent heart disease. It contains flavanols that can lower blood pressure, making your heart, veins, and arteries work better. 
So, what do we do with three of nature's raw materials? We take the almonds and gently roast them to seal in their sweetness. Then lovingly wrapped them in a generous parcel of smooth milk chocolate. When firm to the touch, these semi-hard rugby ball-shaped pods are rolled in a blended mixture of fine cocoa and cinnamon powder to create joy in a mouthful.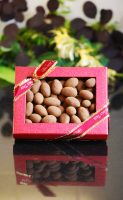 Our cinnamon dusted almonds are hand packed tightly into bespoke festive gift boxes and tenderly tied with our customised ribbon. We are proud to have created a perfect gift to give or share with family and friends.
It's important to remember that cinnamon-dusted almonds are still a confectionery. Eat them sparingly, if you can! And if you don't like cinnamon try our milk, dark and white chocolate covered almonds or our walnut covered in milk chocolate
Read more about us, our story, the Great Taste Awards we've won and why we have a passion for superior tasting gifts and snacks.
Walnut Tree Gifts is one of the UK's leading packers of superior quality dried fruit, nuts and chocolate. We've been working in partnership with high-quality retailers since 1995. We are privileged to supply prestigious London stores, palaces, castles, stately homes, garden centres, delicatessens, farm shops, hamper companies, department stores and gift shops with corporate or Walnut Tree custom made gifts.
We're the only company with Great Taste Awards for marron glacé, glacé fruit, dark chocolate ginger and pate de fruit, so you're never more than a click away from some delicious delicacies. The website is open 24/7. We will despatch your order within 48 hours.
All gifts purchased included complimentary gift bags and card. Choosing a meaningful gift can be difficult – we're always happy to offer advice. Call or email us. We pride ourselves on our excellent service.
You'll be delighted to know that as you're buying directly from the source, you'll be getting excellent value for your money. And if you're not happy with your purchase, we'll refund or replace it.
This year, Walnut Tree is supporting Future Dreams Breast Cancer Charity with dried fruit and nuts for the care packages they distribute to patients in hospitals throughout London.