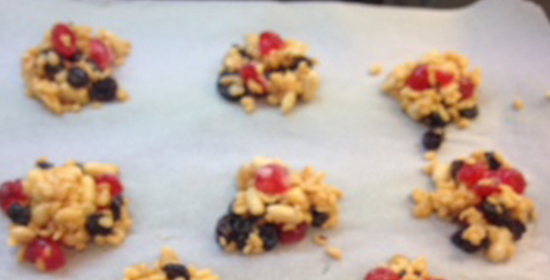 Florentines in Florence … Candied Fruit
Florentines in Florence … Candied Fruit
In December we went to Florence. We had a great time and although we drank plenty of coffee what we couldn't find was a florentine —a sweet pastry of nuts and dried or candied fruit sitting on a thick dark chocolate base. I was puzzled as it seemed the most natural biscuit to ask for in Florence to compliment the coffee.
So standing back and re-evaluating the detail of a florentine as we did the masterpieces in the Uffizi it slowly became clear that the raw ingredients are not of Tuscan originality
Unlike their famous garlic bread, Fettunta, or their Crostini di Fegato/Crostini Neri, chicken liver pate served on toasted rounds of bread or Pappa al Pomodoro, a traditional tomato-based soup. 
However, as I was sitting and pondering at Michelangelo. David, I re-evaluated the raw ingredients and realised that candied fruit and walnuts have a strong french influence. The traditional base of a florentine is essentially a roux, an oh-so-French cooking technique that firmly puts us into France. But how?
Once home. With a newfound love of Italy and popular rating on Netflix, I sat down to watch the story of the Medici Dynasty, and there was the bridge. In 1547 an incredibly wealthy Italian noblewoman from Florence Catherine de' Medici became queen consort by her marriage to the French King Henry II. 
In addition, Catherine is one of history's most influential gastronomes and a spinach enthusiast. Think of those French-tinged brunch favourites, eggs Florentine and quiche Florentine. So it flows that these sweet pastries of nuts and fruit where created in her royal kitchens and named whimsically after childhood roots.
In conclusion, centuries on, florentines are still enormously popular cookies worldwide, but note, a visit to the best of Florence's pastry shops for these cookies will leave you empty-handed.
MY RECIPE FOR FLORENTINES
You will need 
Rice crispies or corn flakes
Small tin evaporated milk
Dried cherries or cranberries or candied fruit
Peanuts or walnut pieces or pecan pieces
Glace cherries
Fill your mixer bowl half full with rice crispies or corn flakes, add a hand full of dried cherries and peanuts. Pour in the entire contents of a small can of evaporated milk and gently stir until the mixture sticks together. Then stir in approx. Fifteen pre-cut glace cherries.
Put spoon spoonfuls of the mixture on greaseproof baking paper. Place an extra halved glace cherry to the top, so each mound has colour.
Cook in a pre-heated oven at 180oC for 15 mins. They will come out of the oven soft but will harden up during the cooling period.
Once cold, melt some dark chocolate and liberally spread on the base of each florentine.
Leave for the chocolate to harden and then eat and enjoy.
Walnut Tree Gifts is one of the UK's leading packers of superior quality dried fruit, nuts and chocolate. We've been working in partnership with high-quality retailers since 1995. We are privileged to supply prestigious London stores, palaces, castles, stately homes, garden centres, delicatessens, farm shops, hamper companies, department stores and gift shops with corporate or Walnut Tree custom made gifts. To find out more about our delicious products click here Luxury dried fruit gift tray selection
Luxury chocolate covered nut selection
For more information call 020 8236 0648 or email bev@walnut.gifts